Dealing with the Loss of My Labrador
by EJ
(cleveland, ohio)
I lost my angel on saturday.
Moxi has been in my life for 11 years and suddenly, without warning, she began bleeding to death.
My heart is broken in pieces and all I want is to have her back.
I don't know how I can go on without her.
It is hard to imagine that this bond of unconditional love and acceptance exists and that in an instant it is gone.
I am unable to function and not sure how to deal with this except one day at a time…I am afraid…afraid that the pain will never stop.
Comments for Dealing with the Loss of My Labrador
Average Rating





Sep 18, 2012
Rating

Buried my Labrador 3 hours ago. 🙁
by: AnonymousMy 10 year old Labrador just passed away 3 hours ago. He was having congestive heart failure and was under serious medication and treatment for 2-3 months. I buried him with my own hands and I still cannot believe he is gone. 🙁
---
Oct 24, 2011
Rating

memories live on
by: AnonymousLosing an exceptional pet and my 15 year old and eleven days chocolate Labrador Hooch was – to me – exceptional in every respect, can leave a permanent mark on your life. I decided I want, need really, more of the good things in life, none of which you can buy in a shop. To most people a pet is no more than just that. To me he was someone who gave me a second childhood, someone who learnt as much as he taught who joined me, allowed me to participate on a long and exciting voyage of discovery and mutual understanding.
Closure in itself appears to be a terrible word. I don't think that one is able to "close", to distance oneself from something wonderful, from many joyful years. It's been part of my life, an important, and a beautiful part.What you can try, must try, consciously, is not to close out pain, but to understand it, make it bearable. Even though it can still be numbing at times, one cannot ignore the fact, known from day one, that biological life is not eternal. A dog – like everything else – is not for life as the car window sticker?s claim. It's but a "fixed term" affair.Recalling this indisputable fact must, when the pain is at its worst, alleviate it; at least a little.There will probably always be some pain. But there will also be beautiful memories, always and forever. I now know that one is the price of the other. Considering how very much he gave this is but fair
Life does go on. Although there may be always some sadness, it ceases to choke at some stage. It can take weeks, months or even years, but it will happen. Yet memories live on. Beautiful, fond, proud and heart warming memories that will be there forever.They say memories are golden
well maybe that is true
I never wanted memories,
I only wanted you.

A million times I needed you,
a million times I cried.
If love alone could have saved you
you never would have died.

In life I loved you dearly;
in death I love you still.
In my heart you hold a place
No one could ever fill.

If tears could build a stairway
and heartache make a lane,
I'd walk the path to heaven
and bring you back again.

Our family chain is broken,
and nothing seems the same.
But as God calls us one by one,
the chain will link again
---
Oct 02, 2011
Rating

Charlie
by: JanI lost my best friend in June 2011 Molly yellow lab.entry is on 21st June.We had another lab pup she is full of fun but still miss Molly.
We also have a chocolate lab Charlie who is now poorly with liver disease jaundice and anemia.
he still has a quality of life that molly lost so we are hoping we can keep him going a little while longer.He is 13years old.
To lose two of my friends this year will be unbearable.
---
Jul 22, 2011
Rating

Our Beloved Bridget
by: AnonymousAfter six weeks of watching my gorgeous, bouncy playful 6 year old black lab go rapidly downhill with SLE we took the painful decision to let her go yesterday. I can't describe the hurt and agony my heart feels right now – it was absolutely the right thing to do, because of the way she was wasting away, it was unfair and selfish of us to keep her here and she was ready to go, she'd fought hard but the disease was too much for her. I don't think we will ever get over the feelings of emptiness and heartache. She was so smart and funny and we will miss her dreadfully and I'm sure that there will come a time when this pain will diminish but there's a part of this family gone now forever that nothing will ever replace. She loved us unconditionally and we loved her back with all our hearts, We thank God for the joy and laughter she brought us and are grateful that she's no longer suffering or in pain. Bridget – the best dog any family could ever hope for – and we had her for six wonderful years – we were blessed.
---
Jun 21, 2011
Rating

My lab Molly.
by: janI watched Molly for two weeks slowly not being able to make it for her walks down the park her legs failing her and then she had to make that awful visit to the vets were you have to decide what quality of life she had, selfish or not I wished I had bought her home at this moment I cannot come to terms with the loss despite having another two labs.Mol was nearly 14 years old and the strange thing is we lived in Rossendale for two years and that is when we got her and she is returning for her cremation it is on Friday seems eccentric but I want to be with her one last time.I really have never felt so upset just recovering from breast cancer has not even come close to this.
---
Apr 26, 2011
Rating

Tough Day
by: Anonymous4-22-2011 I came home from work he meet me at the door. Went to store then came home and he's gasping for air.
He quit breathing, gave him CPR and Mouth to Mouth. He came back, he was weak and still grasping for air. 10 minute trip to the vet he's alert and wants to look out the window and have his ears rubbed. As we pull in to parking lot he quits breathing. The Vet could not bring him back.
He was 13 1/2.At age of 10 he had cancer thanks to kemo I had 3 1/2 more wonderful years with my best friend.
I know I did everything possible for him makes it a little easrier, but it's tough. I'm glad I was with him when he passed.I miss him
---
Apr 15, 2011
Rating

noodles
by: sandrai lost my wonderful yellow labrador called noodles on monday 11.4.11. at 3-30am he was fine when i got up at 6-30 he could'nt walk, i had to carry him out to the garden, took him to the vet, he said noodles was not awary of his back legs they had gone just like that, he was 12.5 years of age, he could have had a mri scran a needle in his back that would have taken 24hrs to work, thats if it did, by the vets face the best thing to do was to lose him, it was such a shock as he was running around the day before never been ill or in any pain, i cant stop crying, i have a black lab moose who is nearly 15 and misses him just as much as i do, i keep thinking did i do the right thing, i no i did as he would have hated not being able to move.
---
Nov 11, 2010
Rating

I love you Mavie!!!
by: AnonymousI had to put my loving chocolate lab Maverick of 12 1/2 years down tuesday 11.9.2010 at 4:10 am. It was a total shock.I can't even believe I'm here writing this. It doesn't seem real.He was having a hard time breathing and started to collapse. We rushed him in and the vet put him on oxygen and stabalized him.They said they needed to take x-rays and possibly an operation because his flaps to his air ways might be closed.2 hours later she called and said he had gotten worse. Fluid had aspirated into his lungs and they were filled which turned into pneumonia.

One minute he was fine and they next I'm having to decided to to put my beloved mavie to sleep.

The vet said he would need a breathing tube for weeks in order to cure the pneumonia because he was not able to breath on his own. He also had an enlarged esophagus which was moving into his stomach.

He was just at the vet in August and the vet said he looked great.I'm so confused!! The vet told me that he would probably never be strong enough to make it to surgery and I didn't want him to have to endure all the pain.

It was the hardest decision of my life. He was my companion. The one I told everything to. He was my big chocolate bear.

It has only been two days and I feel as though my heart is going to explode. The tears will not stop flowing.

I love him very much and i know he is in heaven an not felling any pain. I just keep telling myself to remember all the good times and what an incredible, loving and amazing dog he was!

My brother made a beautiful tribute to him on facebook under Ricci Lopez.

I know how you all feel.

Just remember that we gave our dogs a beautiful life and they know they were loved unconditionally just as they loved us!!!
---
May 06, 2010
Rating

Bear dog
by: AnonymousWe lost our beloved, family pet this past Monday. We had to put him down because he was hardly able to walk anymore and had labored breathing due to heart worms. He was in a lot of pain so I know we did the right thing, but it hurts so much.
---
Apr 26, 2010
Rating

Such a painful time
by: AnonymousMy beautiful Labrador died on 8 April this year. He was only 2.6yo. He was taken ill suddenly on the Tuesday afternoon and was put to sleep on Thursday. He had a tumour on his kidneys that was inoperable. There was absolutely no indication that he was ill before sudden onsent of a bout of sickness.I cannot come to terms with the fact that my gorgeous, lively, healthy (so I thought) bouncy little boy is no longer here. My other gorgeous 6yo Lab is keeping me from going insane with grief.
---
Apr 12, 2010
Rating

Goodbye Sweet Willy
by: CarolWe lost our adorable Willy this past Friday April 9,2010. He would have turned 10 this Saturday April 17. He was a completely healthy dog until around 6:30 Thurs the 8th. He had developed hemangioma sarcoma – a very deadly form of cancer. He was a once in a lifetime dog. He really related to people in a unique that very few dogs do. The pain literally makes my heart ache. I keep smelling his collar. His food bowl and crate along with all his lufas are still around. We have a 8.5 field yellow lab named Gracie in our home still and she is in mourning. We got Willy 3 months after the loss of another female named Katie. I can say I never stopped crying at that loss until the day I brought Willy home. I know this may seem a little too soon to some but we will pick our new boy yellow pup on May 1st. The pain of their death is worth the joy they bring to our lives even if it is shortlived.
---
Apr 06, 2010
Rating

Best Friend
by: AnonymousI lost my yellow lab on 30-Oct-09. She was eighteen years old and could not walk anymore and I had to put her down. I know how you feel and I still cry and miss her. What makes it a slight easier for me, is my memories of her and when I go for a walk I know she is still with me and will always be. In My Heart.
---
Mar 21, 2010
Rating

my best friend
by:I just lost my 12 year old lab (my best friend) on Friday 3-19-10. He had cancer so we knew this day was coming but I was not prepared for this empty feeling that has been left with me. He was such a huge part of my life. Everywhere I look I expect to see him but he is not there. That is the hardest. he was a good dog and I miss him so much already. My suggestion would be to be around people that have pets and that really understand what you are going through.
---
I miss him so much
by Bailey
(Canada)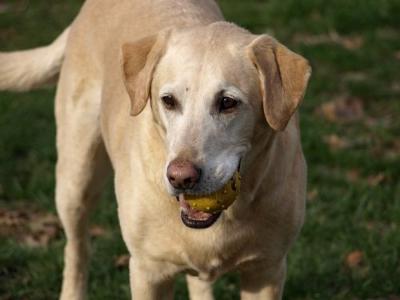 Copper, 3 days before he died
My dogs name was copper. He was only 2 years old. And it was all my fault he had to die.
We live on a big farm and he escaped and our neighbor shot him because he was chasing his cows.
He escaped because i forget to close the gate when i came back from riding.
I miss him so much. He was part of my life. He died on the 15 of may 2010.
My parents bought me another chocolate lab but he just wasn't the same and i was scared that i was going to kill him as well so i gave him away.
I miss copper so much. May he rest in peace.
Comments for I miss him so much
Average Rating





May 16, 2010
Rating

Im so sorry
by: Anonymous
Im so sorry for your loss. Copper looks so cute in that picture. I feel SOOOOOO bad for you =(
---
jack left us
by Bala
(chennai, INDIA)
Jack, our labrador retriever, was there with us,for around four and a half years, it was more or else like a human.
jack left us five days back
My younger brother, always used to be with him. Eats with him, sleeps with him , so close.
He was not well, for a week, had a high fever , our Vet could not figure out, what was happenning. Then we found that the BP was less and we had an appointment to a cardiologist.
We were about to reach the doctor door, he collapsed, in my brother hands. my brother could not take this, we all are continously crying only…we could not take it.
we are not able to withstand and understand that we have lost our lab jack. please pray for our jack, to rest in peace.
Our Beloved Bo
by Michelle
(Rochester,Mich, USA)
Out black lab "puppy" Bo passed away on Thursday, April 1. 2010.
The worst day of our lives.
Bo had a depth to his personality. He was dependable, adorable, worthy, gallant, soft, and a lover of all foods!
He was an extension of us. He is our family member and always will be. I can't believe he is gone.
He, in my heart, was supposed to be with me forever. Oh, the fun we had together! The numerous walk, the presents he received all the time. The love he showed us. Always there when you needed him.
He was our protector. He was "king of the castle".
We had an unspoken language, Bo and I.
This is too hard for me to write at this time. Our hearts are breaking.
My Bo, my love forever.
Odie
Odie was an amazing dog who recently died by being hit by a car.
I cried and cried and cried.
My parents bought me another lab but he just wasn't the same as Odie.
But one day when i was in the kitchen thinking about Odie, I realized that he lived an awesome life.
Odie was never sick, never misbehaved and he always looked out for me when ever i needed him. I miss him so much.
But i guess it was time to move on.
In loving memory of Odie.
Comments for Odie
Average Rating





May 15, 2010
Rating

Wow
by: Jesse
Wow i Cant Believe You Went Through All of that. My lab died yesterday because she had a twisted stomach. So it was my idea to put him down and i did. He was in too much pain. It hurts so much to put animals down. His name was Cooper. He wasn't just a friend, he was a part of my life. His favorite activity is swimming.
---
May 14, 2010
Rating

Poor Odie
by: Anonymous
Wow. You have been through a lot. Im so sorry for your loss.
---
joyce
by joyce mentern
(Hertfordshire)
I have lost 5 dogs over the years, the last being in March this year.
It hurts so much in the beginning and still does briefly at times.
You think you will never stop crying and grieving, but in time over the months you begin to remember happy times.
You can remember and laugh at incidents and remember them with gratitude for having such a loveable pet.
I am now beginning to think of having another labrador. Not that I will ever, ever forget the ones I have had before, but to their memory I will love another dog.
The first four months and the last four months are the most trying but the bit in between is so, so enjoyable.
A True Angel
by Dave
(Gainesville, Ga)
As you can see by the title, Angel, is my yellow lab. I am waiting here for her to be put to sleep today.
I have watched her over the past two weeks slip into her last days on this earth with us.
She quickly went from a 13 and a half year old wild thing full of joy and life to a shaking, shivering sad dog who is now on her final 3hours before the vet arrives.
What a great companion,friend and family member. I am a man who is struggling with the approaching loss of my pal.
I took her for so many rides that people joked if she was my wife because they saw Angel in my car more than my wife.
Dinners will be quiet, the excitement she had to see me come in the door day after day is now gone, the licking of the plates when she heard the dishwasher open.
I never knew how much a dog meant until faced with her leaving our household. How much does she mean to the family? My oldest daughter took a train 400 miles to be here today. She got in this morning and will be leaving tonight, just to be with Angel in her last few hours.
She was the keeper of the neighborhood. Neighbors would pass by and bring their kids to pet her and play with her.
Our household joke is more people in the neighborhood know our dog more than they know us, sadly, it is true. She was loved so much one of our neighbors children named their new puppy, Angel.
May you rest in peace my friend.
Daddy
Comments for A True Angel
Average Rating





Oct 30, 2012
Rating

"my adorable kids"
by: R.Singh
Hello! I can understand what is the lost of ur best friend.who can stay with us when nobody is with us & console us.I too lost my 2kids lullu+sherry few months back to overcome from this biggest loss of us.Without them life is so difficult.
I don`t know it is true or not?But,I have a hope that when I will go to God,then we will meet again in across the rainbow bridge, where they r also waiting for me.
So,with same wish, i have for u too.
By R. Singh
---
May 05, 2012
Rating

your baby
by: Anonymous
Sorry for your loss. I feel your pain, my junior was my baby, for 12 years. If you have to Petloss.com is on Monday nights at 8pm, This site helped me alot. Marlo