Knowing about Labrador health is one of the most important parts of being a successful owner. Labradors are very energetic and happy dogs and when they are of good health this will shine through. If you have the opportunity to become the owner of a puppy then looking after his health should start straight away.
When Labrador Puppies are born they should be fed by their mother. The dam plays a very exclusive role at the birth of its pups. She is able to provide them with Collistum.
Collistum is a vitamin that assists tremendously in the early stages of a pups life. A pup that does not have enough of this vitamin may suffer from having a lower immunity level than others.
Once the initial stage of breast feeding is over inoculations should begin. The correct time scale for this being at about 6-8 weeks. After that boosters should be administered every 2 or 3 weeks until the puppy is 4 months old. These are the important first steps when learning about labrador health.
If you are interested in buying a Labrador Retriever Puppy then make sure you become its owner once it is at least 3 months old. Purchasing a puppy of any breed under 3 months is highly unadvised. Because of this you should only have to arrange one or two booster shots yourself and then the annual appointments with a veterinarian in your area.
Inoculations are vital, make no mistake. They will provide your pup with the necessary armoury to defend itself against infectious canine diseases.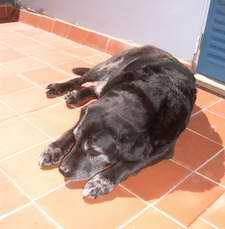 Reviewing your Labrador Retrievers health every year is an important part of being an owner. You should make arrangements with your vet at the earliest possible time. Remember that there are probably many other pet owners in your area so if you have a preference to time and date then make your appointment now!
In an annual examination the usual procedure is for your vet to check your pets blood, its vital organs and perform a faecal examination. Some vets may even listen to the vital organs just to be a bit more thorough.
As with other dogs Labs are always in danger of being infected by parasites. They can infect your dog through insect bites and even other dogs faeces. If you think your Labrador may be infected contact your vet immediately.
---
Read about the major Dog Diseases?
Read about Dog Fleas and how to defeat them?
Parasites – Preventative Measures Against Heartworms
Read about Mammary Gland Tumors?
Learn how to trim your Labs Nails
Leave Labrador Health and return to Homepage
Suitable Puppies
Finding cute puppies to suit your lifestyle is very important. Each adorable puppy is different, knowing which one is right for you and how to care for it is vital when choosing your new best friend.