Labrador Retriever Pictures
Do you have any great labrador retriever pictures?

Check out this great picture of our Tasha, she was having a very lazy day!
---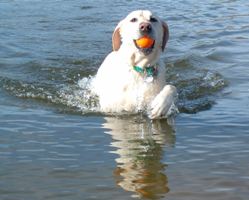 Hi everyone! Meet Holly. Check her out, enjoying her favorite sport – Swimming!
She does look like she's having fun!
---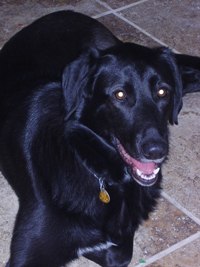 This is Remy, short for remington. She is a 2 year old bundle of energy. 
---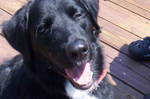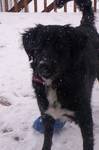 Hey everybody! Meet Bailey Chambers! Bailey is a lab/Collie mix. He loves to play with his dad on the deck, but sometimes the sun is just too bright. He also loves to play in the snow!
---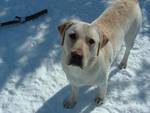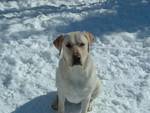 This is Hooch who is 18 months old. His owner says that if there was such a thing Hooch would be her soul mate as a dog, we do so much together, if soul mates could exist between man's best friend and us Hooch would be mine.
He can be the calm before the stormyet there are times when he lays beside you with his head on your lap that's when you forget that he just stole the toilet paper, chewed my slipper and stoled my lunch, and I wouldn't have him any other way.
---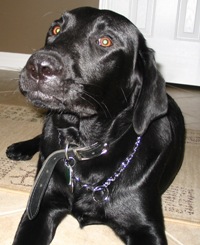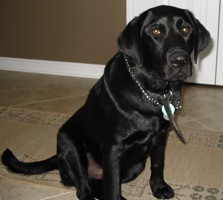 Please allow me to introduce "Cody", he is 8 months old and full of love and energy.
His owner says that he is her dearest friend and she is thrilled to have him as her pet… he is everything that she hoped for in a dog.
---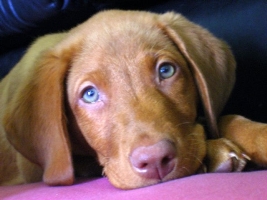 This is a fox red lab, Duke. He is 12 weeks old and is a ball of joy.
He has so much personality and already loves to retrieve. His owners say 'He will be a duck hunting machine in no time!'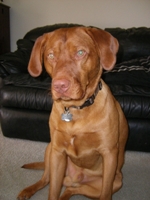 This next picture is an updated photo of Duke. He was just a little guy in the other photo and his owner has sent us another picture so we could see how he has grown!
The "duck hunting machine" comment turned out to be true. He absolutely loves the water.
Last fall was his first hunt but he was still a little too young. Hopefully this year will be more successful for him!
---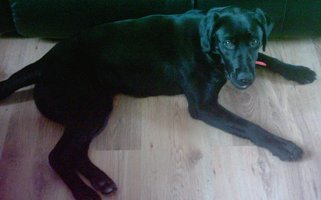 This is Holly,she is 10 months old.
She is a resued dog, but after her ordeal she is now a friendly and very lively and funloving pup.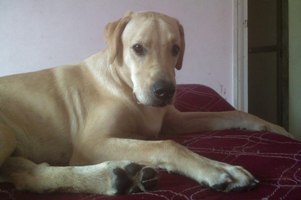 Everyone meet Lenny. He is 9 months old and his owner says he is a very loving pet!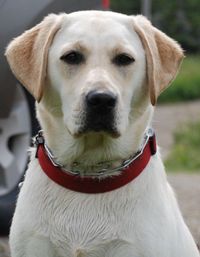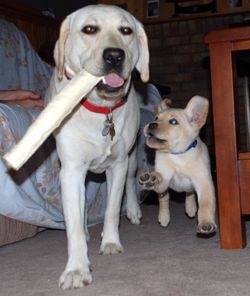 The first picture is Dory a 1 year old female, the picture was taken in Newfoundland this summer, it was her first vacation.
The second picture is of Dory again and a 4 month old male, Duff, he was 8 weeks when the photo was taken and as you can see he was trying pretty hard to get the chew bone, yes he is airborn!!!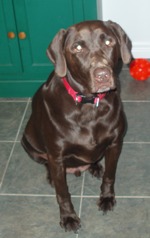 Let me introduce you to Sedona, his owner says he is her best bud!
He is a 5 year old Chocolate Lab who loves to swim, fetch, play tag and play hide and seek.
He is great a seeking but they are still working on the hiding part! He enjoys watching the kids show "Clifford The Big Red Dog" and really looks forward to his afternoon naps.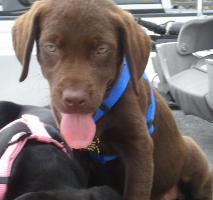 The next two labrador retriever pictures adorable lab puppies!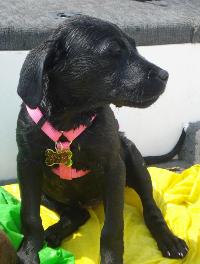 The chocolate lab is called Buddy. he is very relaxed and sweet and is now 11 weeks old.
The black lab is called Precious. She is full of energy and is very intelligent at 3 months old!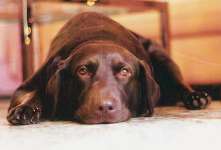 Everybody I would like you to meet Okala.
Here is what her companion had to say about her:
'This is our dearest pet Okala. She passed away July 3 2008 just 2 months before her 10th birthday. This picture was taken when she was 5 years. Just 3 days before she passed away she gave the loudest and her last bark to my girlfriend (never liked her much). I will surely miss her much!'
---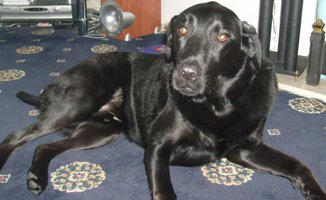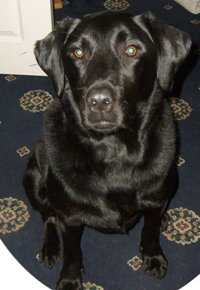 This is Paddy our new Black Lab. we got him from a rescue home in south wales. He is supposed to be five but we think he may be a tad younger. He as already become an integral part of our family. Our sons are crazy over him, they are both in their twenties.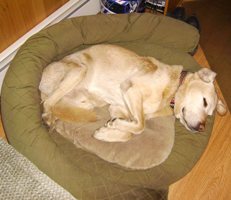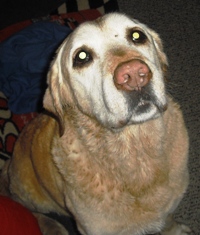 This is Bud. He is about 13 years old and has the spunk or a 3 year old.
His favorite things include, chasing and riding on the 4 wheeler, swimming, chasing his tennis ball, riding shotgun, and sleeping.
His owner says, 'He is an important part of our life and can't imagine life without him!'
Would you like your Labrador to appear on our website? If you do please use the form below to send in your labrador retriever pictures.
What Other Visitors Have Said
Click below to see contributions from other visitors to this page…
Some cute Labrador Retriever Pictures sent in by our readers






Our Lab Coal is 6 years old. He is hands down the best dog that I think we have ever had. He gets into trouble a bit by running off.. LOL His girl …
yellow lab puppy pictures






This is crayon my 6 months old female lab. This photo was taken when she was at 9 weeks. She loves running around the house and playing with anyone …
Collection of some more labrador retriever pictures sent in by our readers 2






Dexter is the best labrador dog anyone can have. He is full on energy, lots n lots of innocence and definitely very naughty. He makes me happy all …
chocolate lab puppy pictures






Meet Jack Daniels – he is 50 days old chocolate lab … He loves running around the house and playing with anyone who comes to the house.. the moment …
Labrador retriever pictures sibling love!






This is a picture of some great labs! 2 brothers and a sister all from the same litter enjoying a nice fall day in Culpeper, VA.
Collection of some more labrador retriever pictures sent in by our readers






My lab coconut loves to play! And when he sleeps it is like he is 60 years old, but he is only 3 🙂
Labrador Retriever Mix Pictures Not rated yet
These are our new labrador / collie mix puppies, Zeus and Sophie. They are seven weeks old and we saved them from going to the Animal Shelter. …
Black Lab Puppy Pictures Not rated yet
My black Lab Sasha is now 17 months old. We did not expect to have such good fun with her as we never had a dog before. She gives you her friendship …
Return from Labrador Retriever Pictures to our Labradors homepage