The Loss of a Dog
Okala – My Chocolate Female Lab
Here at all-about-labradors.com we recently received an email from a reader who sent in a photo of his female chocolate lab who had recently passed away.
We thought this was something we should have a piece about, as it is something that is unfortunately inevitable. So we asked him to write in about how he dealt with the loss of his dog.
Here is the email that was written: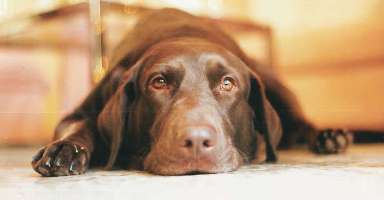 I could go on and on about Okala for days. I was actually thinking the other day about the way that a pet can change your perception of life.
Maybe you know this already but the connection you get to have with a pet, in this case a dog is a very strong and special bond and for the most part very indescribable.
I didn't saw Okala as a pet, I saw her more like a family member. If you look closely to your relationship with your dog you may find that in some ways they can teach you stuff about life.
For example dogs don't judge you when you're mad, they sit silently beside you when you're feeling sad or depressed and they're always glad to see you up and happy.
Dogs definitely are loyal and friendly and in most cases can become very protective of their owners.
In my case Okala helped me through very difficult moments like losing jobs and family members or even break ups. She definitely made my day whenever she lay down and waited for me to give her a belly rub (that was her favourite reward). I guess that the best way to deal with the loss of a pet is just remembering all those things they did that made your life a little bit more simple and pure.
I always felt like a kid whenever she was around and now I can't wait for my own kids to feel like grownups when taking care of their own pets.
Life surely knows how to keep our lives in balance and by accepting that death is a natural part of life we can move on but always remembering all those things and persons that made your life worth while.
Please share your story …
How did you cope with the loss of your pet? This is a subject which is hard for me to write about as luckily I have not yet experienced it.
However, we all now that it is a inevitable part of life. Please share your story…or even if you just want to write in to remember and share great stories about your bestest friend!
What Other Visitors Have Said
Click below to see contributions from other visitors to this page…
my sweet labs death






Hi everyone. I'm hoping that by sharing this with you it might help a little. Yesterday evening I lost my best friend. I have a wife, …
Dealing with the loss of my labrador i miss him so much!






As you can see by the title, Angel, is my yellow lab. I am waiting here for her to be put to sleep today. I have watched her over the past two weeks …
Labrador retriever loss of a dog






I have been very touched to read of other owners who have lost their precious labs. I lost Bella 3 weeks ago in a car accident. She died doing what …
Our Lab Tessa






We had to put our sweetheart down a week ago on October 14, 2010. As heartbreaking as it was, I feel Tessa's story is inspirational for everyone who loves …
My first baby






Gus was born October 25,2003 and was a beautiful fox red labrador, hyper and loving friend. My husband bought him for me as a Christmas present and …
Losing my Yellow Lab Daughter Lucy-Hard to Deal With






I definitely don't want to ever put a damper on anyone's day so I hope that you can read my story and appreciate the happiness that Lucy gave my family …
Shine – Light of our lives






I used to love dogs when I was young. However due to lack of space, money and stability I could not get one. My daughter loves dog and had been asking …
Best Friend Lost to Lyme's Disease






I lost my six year old yellow lab (Harley) to Lymes disease on February 10, 2010. Harley began having mild seizures in March 2009. His vet said many …
Hunter will always be in our hearts and loved forever






I need to give tribute to our beloved yellow lab, Hunter, who graciously lost his very hard and quick battle with lymphoma this Saturday morning. …
OUR LABRADOR DOG , OUR HEART PASSED AWAY






Most people treat & see an animal as an animal but for us he was a Human being. I think loving and understanding animals is more than even loving a human …
The Best Part of My Day is Gone – My Lab Bailey!






I lost my best friend Bailey on 10/19/10. She was a 13 year old Yellow Lab who had been with me since she was 6 weeks old. She was the best part …
In Loving Memory of my Angels "LUANA+SHERRY", Not rated yet
Hello Frnds, Now,this is also one of my emotional experience, which I would like to share with my petlover friends.Now this is the month …
Jurry Not rated yet
Hello Friends, This is not only story rather it is my personal experience which I want to share with my all pet lover friends.Becoz,It …
my most adorable labs lullu+shery Not rated yet
This is not only my simple story. This is my feelings/emotions for my amazing & wonderful kids luana+Sherry. To whom I can never ever forget until i die. …
Our black lab Cassie gone too soon Not rated yet
My wife and I adopted Cassie, our black lab, from a rescue home in June of 1998, just 6 months after our wedding — she was 1 year old at the time. …