Shine – Light of our lives
by R.Umashree and G. Swathy
(New Delhi)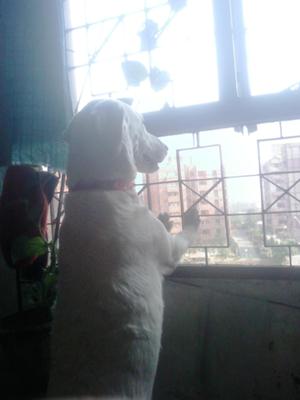 What a world – why are human beings always in a hurry!
I used to love dogs when I was young. However due to lack of space, money and stability I could not get one.
My daughter loves dog and had been asking for a pup since she was three years old. However, again due to space and the fact that we are all women family, I go to work, my daughter studies and my mom is old I was hesitative.
Eventually on October 1st 2008 midnight my daughter called me cried and begged me to bring home a pup who was in her friend's place, had lost its mother and the family could not afford to feed the pup's father and his siblings requested my daughter Swathy to take home one of their pups. I relented and allowed here to bring a pup who was 2 1/2 months old.
SHINE arrived at our place on 2nd October. I was away in Agra. When I returned two days later, my daugther had got him to the airport, I was shocked to see him, he was a scrawny, thin flea infested small pup with a tail like a baby mouse.
Shine became a part of our family, brought us some difficulties and troubles and lot of joy. My daughter spent ages with hiim to clean him of his fleas, potty train him.
Once we started feeding him properly he started to gain weight, his coat started shining (He was a white dog supposedly mixed breed of labrador and spaniel). He looked very handsome.
Shine was very active and intelligent. He was a royal member of our family did what he wanted, ate only what he liked.
His favorite food was egg and rice in the afternoon. Paneer and Pedigree in the evenings. Sometimes a bread toast provided we applied butter!
Shine learnt how to shake hands with his right paw and left paw separately, gave a five, gave a ten and even fifteen. If you asked him to kiss, he used to kiss cutely.
He became my daughter's companion stayed in her room and thought the room and the ensuite bathroom was his. Hence we only had one bathroom for us and our guests. Shine however was a little aggressive and possessive he bit my daughter's cheek once and her friend.
We made inquiries and were advised that neutering him could make a difference. After a lot of thinking we neutralised him last Friday 14th May. He was perfectly normal on Saturday and Sunday went for walks ate properly, played with us and he was healed completely.
Today Monday early morning around 2 am he made a noise. My mom and me ran into my daughters room.
He was lying down at the same place where he sat when we got him home, looked at the three of us once, kicked his leg like he had a fit and just went cold – We could not believe he was no more with us.
We kept him at home till 8 am this morning. All of us were still thinking that he would simply get up and come to us to give a paw.
Alas, this never happened. He probably had a massive stroke. He died very peacefully with a proud expression on his face, facing sideways with all his four legs together – could not believe he was dead – it looked as if he was sleeping.
My mother who is 73 years told us that he was probably taken by Lord of death instead of her. We have just cremated him. We still cannot believe he is not with us. We will always remember him.
SHINE – our light has gone away from us. Destiny must have brought him to us to be with us for less than two years. The same destiny must have decided that he should leave this world without suffering much. Hence, in a way I am glad he did not suffer but went away peacefully.
Shinuma will always remain in our thoughts.