My sweet labs death
by nitish thapliyal
(dehradun,uttarakhand,india)
I had a female labrador named tuffy.She was the best dog i have ever seen in my life.
She was disciplined,obedient and strong.
Her bark will always be remembered .She was a little fatty and when she used to run in the house,we all used to laugh by seeing her.
But she faced a major operation when she was 4 years old and her uterus was removed,due to some internal infection.
From that time onwards she was bleeding alot and was living under problems.
From past one week she was not eating anything and was bleeding and vomitting a lot.
On 21st of september 2010,that is today she took her last breath.
She was dead around 10 pm in the night.
I am feeling so sad by the loss of a loved one.She was very close to me.I loved her alot.
She died at the age of seven.
So i would like that her soul rest in peace and she will go to heaven for being such a good pet and my best friend.
My Sweet Max
by Candi Thomas
(Parker, Colorado)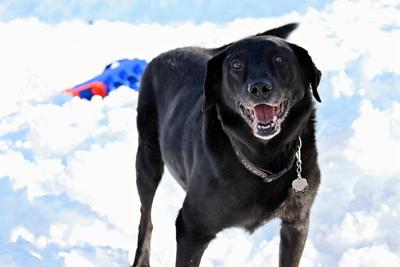 It's amazing, how a dog – who can't even speak, but somehow understands every word you say. That dog, finds a way into your soul and makes everything in your life happy and free.
That dog was my Max. A present from my husband a month before our son was born, I spent 12 glorious years with my black lab. He was happy just being with us, it didn't matter what we were doing. He was always there. He loved us unconditionally, and made sure we knew it everyday.
We noticed a lump on his shoulder in November of 2009. We took him in, and they vet diagnosed it as a fatty tumur.
As the months went by, we noticed that the lump was getting bigger. We took him in again at the beginning of April 2010, and it was again diagnosed as a fatty tumur. We had blood test performed, and it was decided that the lump had to come out in order for Max to live a confortable 2-3 more years, (at least that is what I was hopping for).
As the vet operated on my beloved Max, it was discovered that the tumur was twice the size on the inside of my dog. It was a very agressive blood cancer.
The reason why it was misdiagnosed, twice was it was so large, there was not a needle large enough to aspirate it correctly. My love dog, woke up from surgery, I was able to see him, but passed away during the night.
After the vet tested the tumur – he sat us down and told us that if they had been able to diagnose the tumur correctly in November, they would have told us that Max had 6 – 8 weeks to live. We lost Max on April 24th, 2010. We like to think he loved us SO much, he lived with pain just to stay with us for as long as he could. He didn't want to leave.
We miss Maxwell with all of our hearts. He trained us to be good dog owners and just to live life and be happy.
Maxwell Trucker Smooth
by BC Thomas
(Parker, Colorado)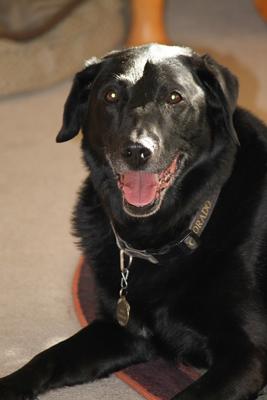 My husband gave me Max as a gift a few months before our son was born.
For 12 wonderful years, I had the most wonderful dog. Max was the type of dog that just wanted to be near you, didn't matter what you were doing, as long as you were within petting range, he was happy.
He trained us to be good dog owners, and made sure that he protected us and our home.
We noticed a lump growing on his shoulder, and the vet diagnosed it as a fatty tumur back in November 2009.
As the months went by, we noticed the lump was getting bigger. We took him back to the vet, and he again told us it was a fatty tumur.
We decided to have the mass removed. During surgery, it was discovered that the mass was double the size on the inside, and the reason why they could not diagnose it first the right time – it was purely too big to aspireate the core of the tumur. He never recovered from surgery, and passed away.
After everything was said and done, we received a call from our vet – if they would have diagnosed it right the first time in November, they would have told us that Max was going to live 6 – 8 weeks.
We lost Max on April 24, 2009. He loved us so much – he didn't want to go.
Our lab Schumi – My green eyed baby
by Swapna Gopal
(Bangalore, India)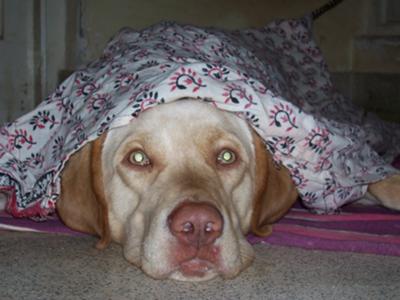 Schumi – when he was 3 yrs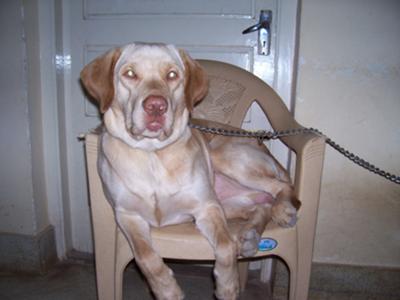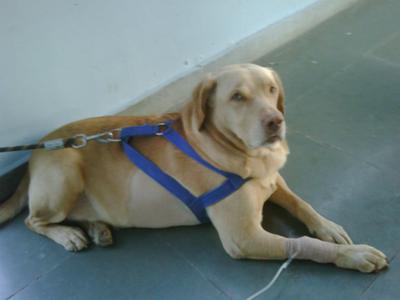 Aftre my baby was diagnosed with Megaesophagus Seizure and CHF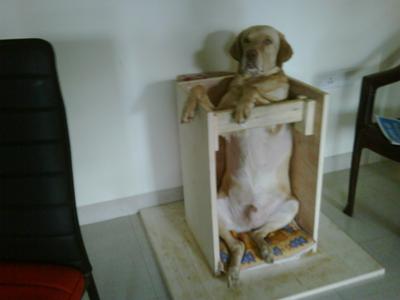 We lost the most important member of our family – our baby last month 4th June 2011. Its been a month for the first time in 6 years that we are not with him for so long..we don't even remember staying away from him for more than 2 days..
He has always had vomiting problems since he was a puppy.. at the age of six, it was diagnosed that he has epileptic seizure, within 2 months he was diagnosed with megaesophagus, then with Arrythmia…i was just hating to see him take so many medicines, i was concerned abt his dozes of medicine and his sufferings..finally i decided to give him herbal medicine..he was back to normal within a span of 2 months…it was no less than a festival in our house to see our baby back to normal..hale n healthy…95% of the time it was only about schumi all the time..my parents health had also improved as he ws such gr8 stressbuster…we loved him more than ourselves…
never remember a day having food vthout feeding him first…
now the sudden emptiness in our life is like a slow poison killing my parents, my bro n me..
d unconditional love, d care, d pranks of his today makes us feel that life cannot go normally without him …but still life has to move on..
Schumi will never like to see us being dull…we see Schumi's innocence in every animal…We live with a hope that Schumi will come back to us in some form…
Comments for Our labSchumi – My green eyed baby
Average Rating





Jul 12, 2011
Rating

U'll have been great with him
by: Anonymous
Hey Swapna,
we know Schmi has been a very important part of your family. as i read the artical i am sure you must be in tears while penning down these words.
You'll have done the best for him
---
Dakota
by Linda
(New Jersey)
We had a Shiba Inu named Dakota. She was 3 yrs old when she passed away.
She was still a puppy. She got sick one day and we were going to bring her to the vet the next morning.
We woke up and she was dead.
Was the sadest thing for my family. We have a 6 yr old daughter and we were all devestated. Cried for days on end.
As time goes by it gets a little easier. We will never forget her.
We are thinking about getting another dog but a different breed.
She was the friendlist lovable dog in the world. We miss her tremendously.
Black Labrador, Xena, my best friend 07/28/11
by Renee
(St Helena Is, SC)

Black Lab – Ready to run with angels
5 weeks ago yesterday my beautiful black lab almost died.
May 9th I asked my Vet to run a senior blood profile, he didn't think it was needed, June 14th I rush a urine sample to the same vet.
I was told she had a bacterial infection. I gave her a drug and watched her plummet, called Vet, he was on vacation, this was 6 days after I started meds.
I took her in another Vet, she spent 4 days in ICU, and was saved.
The bacteria ravaged through her brain center responsible relieving of her bowels.
Also she was dianosed with Myelopathy, kind of like MS in humans.
I had her bowels emptied several times and she was miserable, and she was hurting. I took har pain away yesterday 07/28/11, she was born 05/28/2001 11 years was way to soon. The pain is so horrible, I have had her since the date of her birth.
She was the sweetest, smartest, loving, and held on strong to the very moment she fell asleep in my arms, she is running with the angels. Rest my beautiful beauty.
Comments for Black Labrador, Xena, my best friend 07/28/11
Average Rating





Jul 30, 2011
Rating

I'm Sorry
by: Katherine
While mere words cannot comfort you in this time of great sorrow, please know that there are others out there that feel your pain and understand. Although Xena could not express to you her gratitude for your brave decision, know that you did what was best. Katherine
I lost my best friend yesterday
by Phill
(Hertfordshire, England)
Hi everyone.
I'm hoping that by sharing this with you it might help a little.
Yesterday evening I lost my best friend. I have a wife, 2 kids, but he was my best friend without a doubt. Some may say that's odd, but this dog gave me everything without ever asking for anything more than a cuddle and some food. He didn't moan if I was late home. In fact he was probably even happier to see me. He never ran up to me at the door demanding the newest trainers and yet more toys.
We can learn so much by the way that dogs look at the world.
Tom was a black labrador and he was 11 years old. He slowed down a bit over the years with a dodgy shoulder like so many but that muscle that powered his tail never stopped working. He was everyones best friend. Always happy and always there for us all when we felt down. I must of walked thousands of miles with him over the years, swam in the sea and rivers and had the best ever times. I miss Tom so much it feels like my hearts been ripped out. I'm sure that over the coming weeks it will get easier but I will never forget the friendship and unconditional love that he gave me and my family. God bless you.