Hunter will always be in our hearts and loved forever
by Amy
(Roseville, CA)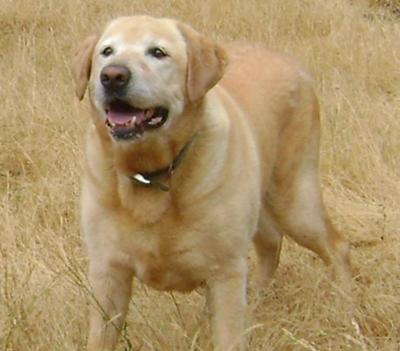 Hunter, Loving Life
I need to give tribute to our beloved yellow lab, Hunter, who graciously lost his very hard and quick battle with lymphoma this Saturday morning.
Hunter began his life with us over 9 1/2 years ago as a birthday present for my husband, Kevin, and in that time he became so much more than a dog- he was family.
He saw me through four pregnancies and helped me heal through the four c-sections I endured.
He was ALWAYS gentle with each new baby and was so protective and loving to our children.
He was always patient but of course, always wanted to play fetch or go for a walk.
The way he would wag that big old tail of his or perk up his ears just at the mention of either was so endearing.
Whether, we had five minutes or five hours to give him – he took it and loved every second of it.
His favorite place to play was Folsom Lake and he loved going on our camping trips with us. He was so good in the back of the truck, we would almost forget he was there until we reached our destination.
He protected us from any outside stranger, animal or human, and did it with such vigor it was adorable.
I could go on and on but as fellow lab lovers you understand the incredible impact he had on not just our lives but on us as a family.
This fateful Saturday morning as Hunter was hanging onto what little life he had left, he spoke to our oldest son Tyler and Tyler became his voice.
He gently let my husband know that Hunter was trying to tell us he couldn't do this anymore and that he wanted to be left alone.
After some soul searching time with Hunter that neither of them will ever forget I awoke and went straight to the kitchen to check on him and he barely lifted his head and gazed at me for what would be the last time with his beautiful, soulful brown eyes and then laid his head on his blanket.
I went to call the vet but before we could take him in he let go himself and died in the peace of his home on his favorite blanket, knowing all of his family got to say some sort of goodbye.
I have a plaque in my kitchen that says, "My goal is to be as wonderful as my dog thinks I am" and that I will still strive for in honor of a truly amazing dog!
Thank you to all for remembering and honoring our precious Hunter.