come home tigger
by dj
(29229)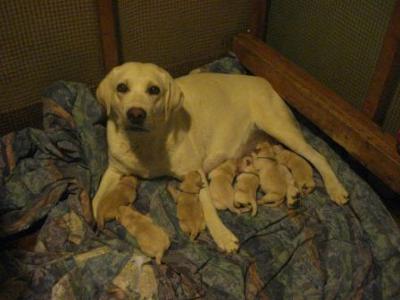 her puppys when she came home
One day I went out with my family and my yellow labador Crystal dug her way out of my backyard.
I looked for her for 12 days and then I gave up hope. Then one day I was getting all her things and she came running home.
She was all muddy and we have been unseparable ever since.
She also had puppies shortly after 🙂
when you love something, you become open to grief
by yrot
(vero beach, florida)
I had a very very special dog, I had him for thirteen years, which is a long life in dog years.
He died on the 19th of Feb and it broke my heart and left a hole in me that may never be filled.
I realize only animal lovers will be able to relate to this, I have heard some people say its only a dog. What they miss, is they will never know. Just they miss alot.
This guy was born on Christmas day and he made every day like Christmas to me and my family.
He had a heart so big, he just lived to love, So now I guess like all things we have to pay our dues, and the dues I must pay is the grief I feel now with his loss.
But I will say right now I do not regret for one second paying the price for this dogs love and loyalty.
I will never forget you Mr. Kincaid !
Your dad,
best friend,
and if there is something after this life, I know we will meet up again.
My oreo– may he rest in peace
by chris herman
(davenport iowa)
Oct 13th at 4am–my oreo died in my sons arms–I was driving my mother back to fl at the time and received the phone call.
He was 13yrs old and was just part of the family.
I never realized how hard it was going to be losing him.
When that phone call came thru–i was in a state of shock but at the same time i had to calm my son down.
Oreo was a healthy dog and never was sick–so when this happened–it thru us off guard.
We found out he was poisoned.
I had to call my daughter and tell her what happened—we just cried so hard–he was so loved.
We have another border collie who's a year old–his name is cookie.
Cookie went into a depression as I was gone.
When i got back from fl–cookie came running out to the car–thinking oreo was with me—.
It was strange walking into the house and no oreo.
Cookie is just starting to eat and come around to me.
Our life will never be the same–but we go on and oreo will never be forgotten.
My husband had him cremated and had his ashes put in a black and white ceramic box with his name on it with an angel.
I'm crying right now as I type this—as it is so hard to do.
My neighbors 2 little girls cried for several hours so I went to talk to them and told them that god needed oreo in heaven– so god's children will have a great dog to play with as they did with him.
I truly believe that.
My Best Friend Left Me Today
by Victoria
(Oklahoma)
Where do I begin! His name was Hoss he was a large male chocolate lab the first one that I ever owned. When I went to get him he took my heart I knew he was the one.
He was 10 when we lost him he had a Megaesopogus and lupus he also had bumps that came back as cancer removed. We kept him until he told us I had enough and I seen it in his eyes he was ready but I kept thinking am I ready and I was not but I could not let him suffer because I was not ready.
My heart died that day it has been 2 years and it still hurts bad. We had him cremated and he is next to his brother Hershey who we lost 2 years before to liver failure he was 7. Not only did my heart die once but twice.
Sure there will be others but not like these boys.
They are angels now watching over us.
Thanks for reading I could go on on but I won't.
Tara
by Emer
(Ireland)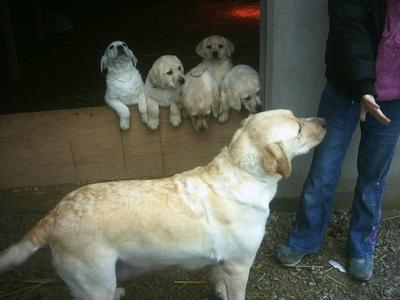 Tara was my special friend.
Why you ask? Because when you were sad you could talk to her she would listen standing silently staring with her big brown eyes,although she didnt understand she would listen.
I dont remember her much but when I do I remeber her as a loyal companion. She gave birth to 2 litters of puppies one of which we kept and named Indi.
But one January day she went for a run. But instead of stopping she kept running that was the last i seen of my golden labrador retriever.
Junior- My Black Lab
by Marla Blair
(Peoria, AZ USA)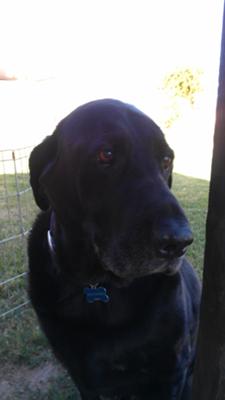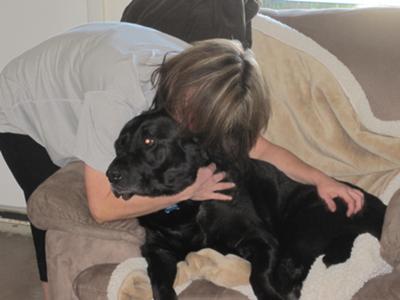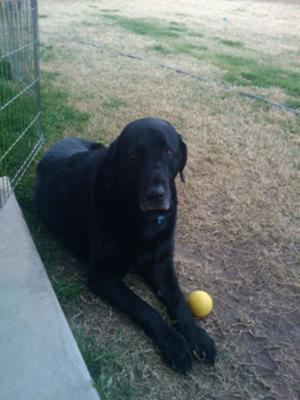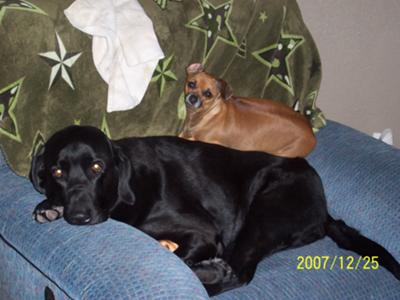 Junior, my black lab, passed away on 01/02/12, his 12th birthday would have been 01/05/12.
I miss him so much. I cry all the time. He was mommy's big boy. I knew it was time when he didn't eat his breaksfast that morning. I called the vet and had him put to sleep.
My daughter got to say good bye to him, which I am so thankful for. My other 3 dogs are at a loss, Junior raised all 3 of them.
I talk to Junior every day and every night. I sent balloons to heaven on his birthday with a card.
Junior was the boy I never had, and the brother my daughter never had. He was my protector and my best friend. I hope he is up in heaven playing ball and running around.
I am having the hardest time not having him with me. I don't want to wash anything that has him on it. I picked up his ashes today, so now mommy's big boy is home.
Junior, this is mommy, I love you and miss you every day. We have a new black lab named Bella, I tell her everyday about you. You will never be replaced. You know mommy loves all animals and will take care of all animals that need me. I will look up in the moon tonight and I know I will see you playing ball and having fun with Bo, Tess, Ginger, Waco, and big red, tell them we all love and miss them. Mommy knows you are in a better place. To you my big boy. I love you and you love me and we are one big happy family. Love you Juju, your mommy forever and ever.
---
Jan 16, 2012
Rating

Junior
by: Marla Junior it has been 2 weeks since u went to heaven. The dogs and I are doing a little better. We miss you and we talk with you every morning and night. We
hope you are having fun playing ball. I miss our walks, playing ball, playing in the snow and our drive cali.I love you so much. You will always be mommy's big boy.
memories of our labrador Bella
by Kathy
(Leicestershire, England)
I have been very touched to read of other owners who have lost their precious labs. I lost Bella 3 weeks ago in a car accident.
She died doing what she loved best running after a rabbit she was never going to catch. Unfortunately this rabbit ran across the road and Bella followed.
Bad timing as we live in rural england and this wasn't the world's busiest road.
I am very traumatized by the noise she made on impact, but luckily for her death was swift. I managed to get to her and hopefully she knew I was there in her final moments.
I miss her more than I can say. She was the best dog, and best friend it was possible to have. She was my little shadow in the house, and didn't have one bad habit. She loved her walks, her doggie friends, swimming and eating of course.
I am planning to get another dog sometime soon, but i am frightened I won't love her in the same way as Bella. It has been interesting to read others stories about getting another pet.
I've never had a labrador before Bella, but I wouldn't dream of getting a different breed now, they truly are the most beautiful dogs.
Rest in Peace Bella. 30.01.2012