Male or Female lab?
Question
How do male and female labs differ when it comes to training or housebreaking?
I've heard the females are easier to train and are not as stubborn as males.
I first wanted to get a male lab but after hearing that information I am swaying towards a female.
I could use a little info from an actual lab owner.
Answer
Female labs are said to be easier to train and a female dog does not feel the need to mark her territory as males do.
I personally have not had an experience with housebreaking a male labrador.
I can speak about Tasha – we found her very easy to housebreak and very quick to learn everything. We really had no problems when it came to training her.
This is not to say that males will be difficult. I would love to hear other peoples opinions also, did anyone fine their male lab difficult to train?
Comments for Male or Female lab?
Average Rating





Mar 28, 2011
Rating

Female Lab
by: Anonymous I have a 9 year old Male and a 1 1/2 year old Female lab. To put it very simple, I will always choose female labs over male labs from now on. She already behaves better than my 9 year old male and with much less training. My male is much more protective and not near as timid as my female, but being timid has made her very easy to work with.
---
Jun 23, 2011
Rating

Male or Female Lab–training
by: Libby's mom I only have a sample of two, a male and female lab from the same breeder. Both male and female, smart and beautiful dogs–however, my girl was housebroken at 9 weeks barked at the door to go out–without one accident after 11 weeks. She was on the submissive side while still a 'puppy' until about 2 years old–just loved going out, playing tennis (retrieving) and was a star in obedience school.My boy–while definitely will not potty in his crate he is a stubborn boy–I cannot turn my back on him or he will pee–even a small amount. I take him out at least 8 times a day at 15 weeks and he does his business–but, there seems to be 'marking' behavior already which seems amazing to me. Now he also barks when he needs to go out–but he is more alpha than my girl so sometimes we are not sure if the bark really means "go out" or "play with me" or "give me the treat."

He is very smart–will sit, paw, lay down (but thinks "stay" means roll over from the sit–down). Cute.

Over all, it seem my male lab is quite a bit more "independent" and requires more vigilance to prevent peeing or "nipping". I recall my girl's nipping completely ended at 6 mos when she got most of her adult teeth.

An interesting note, my boy was an "only child" –a litter of one, where my girl had 6 or 7 other litter mates–which I think account for the fact that my boy is MUCH LESS FOOD MOTIVATED if that is even possible with a Lab. I couldn't believe it either!
---
Return to Labrador Retriever FAQs.
Why does our lab Charlie eat poo?
by fay
(northants uk)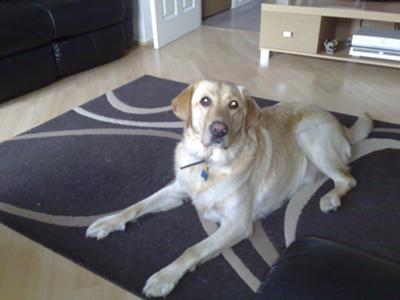 charlie fat dog
Question
This is charlie or (fat dog) as we affectionately call him.
He is 4 years old.
We got Charlie from the dogs trust just over a year ago when I lost both of my old dogs (both lurchers), he has brought us great joy and is full of energy of course, he is one big softie and often thinks he is a lap dog, he enjoys cuddles very much.
Why does our lab charlie eat poo? He is always at it, he eats a good quality dry food and plenty of fruit and veg.
Answer
This is not harmful, however it is a nasty habit which should be broken.
This is very common amongst puppies however can sometimes occur in older dogs as is happening with Charlie.
You might want to check with a vet that he is getting all the nutrients he needs, although if you say he eats lots of fruit and veg chances are he is fine in the nutrient department.
There are various deterrents

for dogs you can try to make him stop. You use it in his food, and it will give any poo a very bad taste which your lab will not want to eat.
I hope this works for you. Let us know how it goes.
Considering a Yellow Lab
by Mel
(Laguna Beach)
Question
After doing some research, I have zoomed in on Yellow Labs, for their companionship potential, for their trainability, especially for their potential to work as therapy dogs.
A Yellow Lab+Golden Retriever F1 cross might be a possibility to reduce potential for genetically transmitted health problems.
My question is how "cat friendly" are they? They don't have any inbred prey instincts do they? Were they only bred to retrieve what had been killed by hunters, without actually contributing to their deaths, but only to their retrieval unharmed?
Could they chase, catch, and injure other household fuzzy beings, in the act of retrieving them? Cats more specifically?
Could they be trusted home alone with a cat without any supervision? Should they be kept in separate areas of the house?
I have encountered two deviating lines of training approach. One approach still buys into the dominance behaviour theory and recommends establishing the pecking order in the household as a foundation. The commonly held belief supports this approach.
The other approach, sponsored by the Association of Pet Dog Trainers, claims the new behavioural studies disputed the existence of dominance model in wolf packs, they believe insisting on that model injures the bond between a canine and its human family.
Which approach in training would work better for Labradors? Do they display dominating behaviour when they are with other dogs, are they always cooperative, and doing whatever is necessary for survival? The second sounded more like a Lab characteristic. Am I idealizing?
Answer
Wow, great question Mel, and one that could be up for a lot of discussion.
There is no doubt that each breed carries its own characteristics, but I think a large part of how the dog will turn out as an adult will depend on how it has been brought up.
There will always be some conflict over the best training methods. You should go with what you feel comfortable and confident with. Your dog will sense your confidence and that alone can go a long way.
Labradors are quite big dogs and I think their size may give off the impression of dominance around smaller dogs, especially when they are young and their energy levels are high.
A friend of mine in South Africa has a yellow lab with four other dogs. His lab hasn't taken a dominant position over the other dogs.
If you want your dog to be comfortable around cats, it will need to grow up around them from a very young age. If you don't have cats in your house when the dog is growing up, the chance is the dog won't get used to them.
The dog needs to learn that the cat is part of the family and if you do it right, you may find a strange bond forming between the two.
My husband loves cats, but we have held off from getting one as we are aware of the potential conflicts it may cause in an established household.
Ideally we should have got the cat first and the Lab a bit later, after the cat is a bit older.
Fearful Labrador
Question
Our labrador is one year old.
In the last four months or so it has become very fearful of men. We suspect that someone must have come onto our property whilst we were away and frightened her badly.
She (Maisie) is not scared of myself, or my husband or other women or children.
If male visitors arrive she will bark and then want to run away and hide until they are gone.
Should we be concerned about this behaviour and what should we do?
Answer
When dealing with your labs fear, care must be taken as when dogs are fearful they may feel that the only way to defend herself is by biting.
It seems that you will have to undertake some socializing training with your lab to get her used to men again.
If it is something that has just started happening it could well be what you say, that someone came onto your property and has frightened her. Poor thing!
Is it all men that she is afraid of (other than your husband)? Or have you noticed she is afraid when the male has certain characteristics, such as beard, glasses etc?
I would suggest, when next time you have a male visitor at the house, to get them to stand away from her, never staring directly at her as she may feel threatened, and throw her favourite treats at her, trying to inch closer slowly, so as not to scare her off.
We want her to realise that not all men are bad!
At any point if she looks scared you step inbetween her and your visitor, keeping your distance also) so that she can see you and feel safe.
Never get your visitors to approach her quickly if she is scared as she may bite!
Personally when dealing with a frightened dog, I would seek the help of a professional dog trainer.
We have never had this problem with tasha, she likes everyone too much and if anything we'd need to train her not to lick and kiss intruders!
If anyone else has any tips on dealing with a lab who is afraid of men please let us know how you dealt with it.
Comments for Fearful Labrador
Average Rating





Oct 19, 2011
Rating

Another scared Lab
by: Anonymous
Our lab Ruby is 2 now and has always been scared of people especially if they are tall. However if its a someone with a dog she is ok and usually assumes they have treats. She is reluctant with strangers but if they ignore her she becomes inquisitive and goes to them it is only when people move quickly towards her she panics and barks and hides. We have been taking her to the amusement arcades this year where there are lots of people and she has coped well with all the attention. Not sure where you are from but in Rhyl dogs are allowed in and I think she is that excited at being allowed in and not having waiting outside, she forgets to be scared, she also likes the lights on the machines.
---
Apr 10, 2012
Rating

my puppy
by: fudge lover My one year old chocolate lab is very energetic but he is scared to go on a bridge. He always tries to run away. And also he is afraid of going on a ramp and jumping into a pool. I don't get it because he loves the water.