Losing my Yellow Lab Daughter Lucy-Hard to Deal With
by Caitlin Rogers
(Peculiar MO)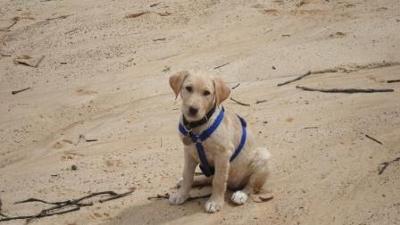 Lucy Marie Rogers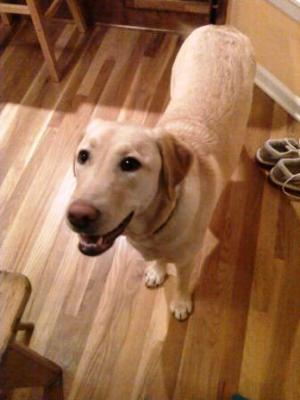 Recent Picture
I definitely don't want to ever put a damper on anyone's day so I hope that you can read my story and appreciate the happiness that Lucy gave my family and hopefully put some awareness out to all large breed dog lovers.
My family got Lucy, a yellow labrador, from a breeder for my birthday last year and I couldn't have been more excited.
Although my husband was extremely hesitant he loved me and knew that it was what I wanted. He had never been much of a pet type person and had a hard time dealing with the consequences of having a puppy.
Lucy was 8 weeks old when we brought her home and she was immediately like my own child.
My husband has four kids of his own which I adore, but Lucy was like my very own child in my eyes.
She followed me everywhere, loved to learn and make me happy. I was a very nervous new dog owner because I had never owned a dog in my entire life. She made it so easy on me though.
Training her was so simple I could never have imagined it being this simple.
Lucy was a very smart girl and I fell in love with her so quickly I knew it would only be a matter of time before my husband did as well; no matter how many times he said he just didn't care much for pets.
Of course by the time Lucy was about 6-7 months old he was just as in love with her as I was, as well as our 4 kids.
Lucy was just another member of our family and life was so much better with her in it.
She taught all of us a different kind of love and made us appreciate life so much more.
Lucy slept in our bed with us every night at the end of our feet and even though it was a tight squeeze with her being a big girl it didn't bother us. We just loved having her near us.
On June 30th 2010 Lucy Marie Rogers would have been 1 year old. On Tuesday June 22, 2010 Lucy starting having terrible accidents in the house which was completely not like her.
We immediately knew that something was probably wrong with her as we started noticing how little she had been eating and drinking as well as how lethargic she was acting.
By the next day she was showing every symptom of a bladder infection. I called the vet and they had me bring her in and she had to spend the night, which was extremely hard on me as she had never been away from me overnight since the day I picked her up.
I was able to pick her up the following day and they had put her on an antibiotic as she did have a bladder infection.
Though when I brought her home something just didn't feel right in my heart.
I was very upset and worried about her though everyone kept reassuring me that she would be better before I knew it. I couldn't grasp that thought for some reason. I didn't feel that it was true for some reason.
That Wednesday night she slept right next to me all night and by the following day when I arrived home from work Lucy looked 200 times worse than she did the day before.
Her eyes were extremely red, her third eyelid was elevated to the middle of her pupil, she hadn't eaten at all since I dropped her off to the vet originally, she was moving around really slow and her nose looked like it hurt it was so dry.
She could barely breathe through her nose and was very queasy. I immediately called the vet and they said I needed to bring her back in ASAP.
They kept her over night again to start pushing fluids into her to keep her alive. By this time I was so worried about her I could hardly think straight.
I woke up the next morning just praying for her strength and wellness and hoping that what I was feeling in my gut wasn't going to happen.
I received a phone call from our vet early that morning informing me of very sad news.
Lucy had been diagnosed with Canine Dysautonomia. It's a rare disease that there is no cure for.
Doctors are not sure how dogs get it or how to prevent it. There is mainly only supportive measures you can take to help your dog through the disease.
This disease attacks the dogs nervous system very quickly. I was able to take Lucy home with me, if I wanted, knowing that she was going to get worse extremely fast.
I knew that I wasn't going to be able to have my girl much longer so I wanted her at least home with us since there was nothing the doctor could do for her.
She couldn't even hold her stools as she had no control over that. The sunlight hurt her eyes, she couldn't breathe through her nose and her throat was getting tighter for her to breathe as well.
She didn't eat or drink anything that weekend and by Sunday the 27th Lucy couldn't even jump in bed with us.
I stayed with her in our living room the entire weekend so I could let her out as often as she needed without having to go up or down stairs.
She started having these weird episodes of her flinging her head around fast and making loud noises while small pieces of her nose were coming out as they were so dry.
The night of the 27th Lucy was vomiting every hour all night long and was unable to see very good.
I was devastated at what I knew we had to do for her as it was only going to get much worse from here for her.
I called the vet first thing in the morning on June 28th and they said she wouldn't make it another week in her condition.
My family decided together that the best thing we could do for her was to help rid this horrible disease from her body and let her go.
I truly believe that losing Lucy will be one of the hardest things I will ever have to deal with.
I lost my baby girl who I loved with every bit of my heart.
My husband and I struggled so much to believe we had lost her. I have never seen my husband that sad and he knows that Lucy changed his life forever.
She showed him so much love that he couldn't imagine his life without a lab.
We miss our girl everyday and it definitely isn't easy to deal with a loss like Lucy's. It was so fast and the disease is so unknown it has us questioning so much about how she got sick.
We are only happy now knowing that she isn't suffering anymore and that she is happy playing in the sunshine watching over us everyday.
I pray everyday that someone will be able to find a cure for this awful disease so that no other dog has to go through this ever again.
I would do anything I could to try to help figure out this disease so I just want everyone out there to raise awareness to this disease and push for further study of a cure for Canine Dysautonomia.
I know that I will never find another dog that would even compare to Lucy but I feel so blessed to have been able to have her in my life the short time I did.
I will always love her and miss her dearly, she will be remembered forever in our hearts.
God Bless you Lucy for what you gave our family, we would never be who we are without you!!