Labrador Retriever pictures of Scoop
by Luc Daigle
(Quebec City, Canada)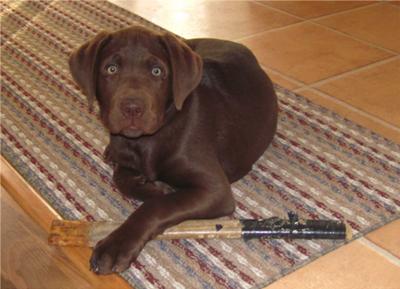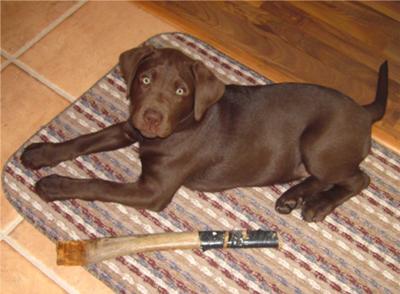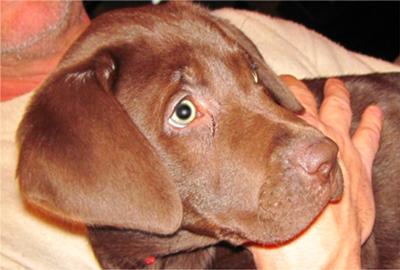 Hi all Labs lovers.
My name is Scoop and I am an 11 weeks old, green eyed, male chocolate Labrador…
I am quite energized, but my master walks me for at least 3 miles per day and I love it.
So far he's also been teaching me a lot of tricks and I heard him said I was quite intelligent and a fast learner….
Chances are I'll be able to enjoy his company for the next 12 – 15 years since I behave so good huh ?
See you soon !
Comments for Labrador Retriever pictures of Scoop
Average Rating





Jun 08, 2011
Rating

AWESOMEST
by: AMBER THOSE ARE THE CUTEST DOGS IVE EVER SEEN AND BELEIVE ME I HAVE A ONE YEAR OLD LAB AND HE IS AS CUTE AS IT GETS SOOOOOOOOOOOO FREAKIN CUTE!!!!!!!!!!:)
---
Jul 24, 2011
Rating

love it
by: Anonymous Gotta like those runs in the morning now, to hot in the heat. He is such a cutie
---
Labrador Retriever pictures of Kendall
by MeLissa McClendon
(Granbury, Texas)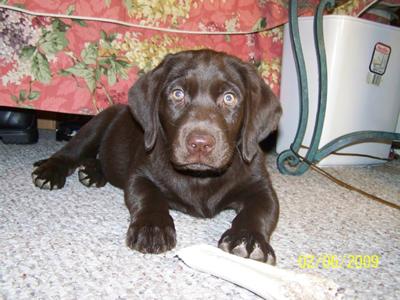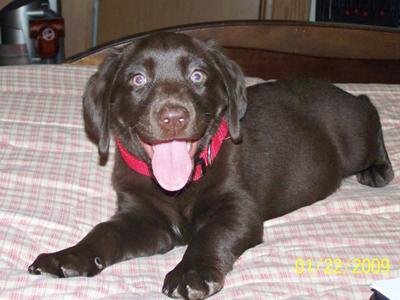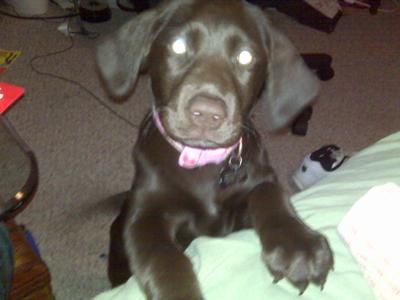 Kendall is a 2 yr old Chocolate Lab and she is as onry as she is cute!!!
Country is her big brother.
Labrador Retriever Pictures of Sohpie and Mocha
by Debbie
(Denison Tx)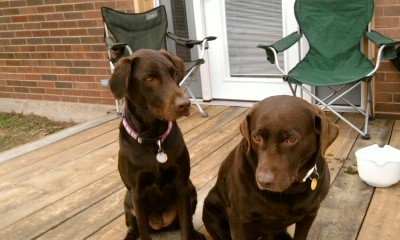 My Grown up Girls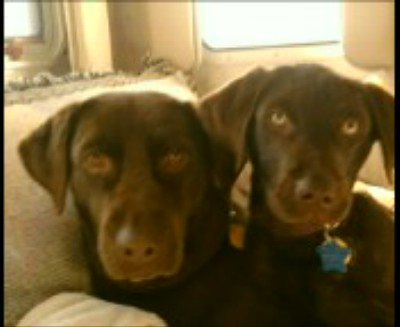 Mocha and Sophie when she was 3 months…Look at those GREEN eyes!
We got our lab Mocha 5 years ago at a shelter in Texas.
We had just had to put down our beloved labrador Tejas who was 15 so we had to have another.
Then April 1st 2009 my sister called to tell us there was a 3 mo old at a shelter in Garland Tx that needed a home…now she is 2 and we love them both dearly.
They tend to each other and take up for each other…We call them My Girls
Ranger
by Shawn and Kayla
(Okinawa, JPN)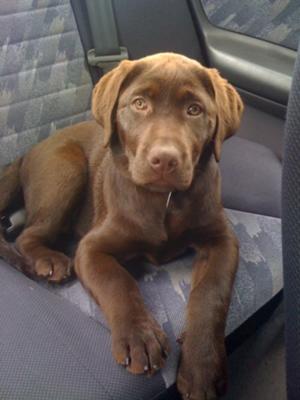 In the back seat of the Skyline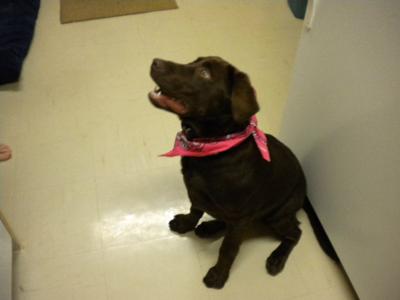 A little older
This is Ranger our new Choc Lab. We are stationed in Japan with the U.S. Army and picked her up while we are here.
Her favorite things include Frisbee, going on long runs, and car rides.
We don't know if she only knows Japanese or if shes just not much of a listener, but we love her anyways!
My Choc lab – Jack Daniels Aka JD
by Rajkrishnan
(Chennai,India)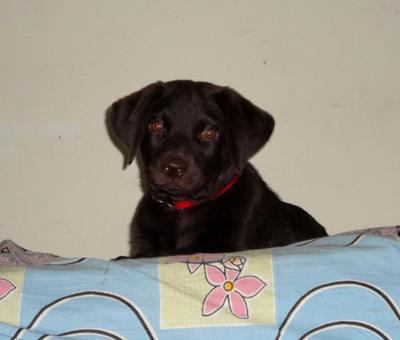 In my bed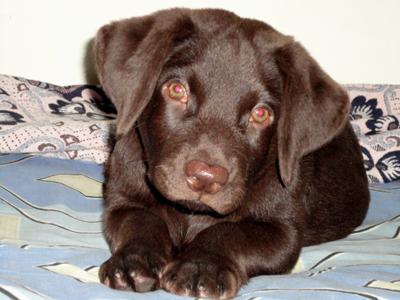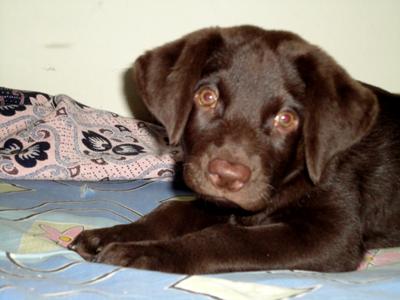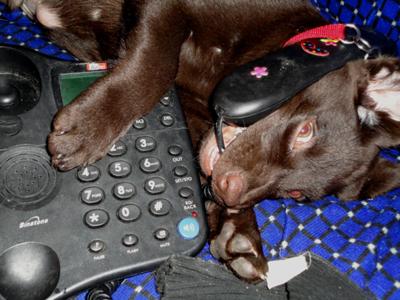 Calling his GF
Meet Jack Daniels – he is 50 days old chocolate lab …
He loves running around the house and playing with anyone who comes to the house.. the moment the door bell rings he gets all excited and gets ready to play…
Just started training him so now he knows to sit and give a shake Hand.
He loves jumping into my bed and play with my pillow…
Comments for My Choc lab – Jack Daniels Aka JD
Average Rating





Jul 24, 2011
Rating

so cute
by: debra
My lab does the same thing. I will post picture for you in the morning
My labradors name is Acie Claire
by kerstan
(Vidor Texas)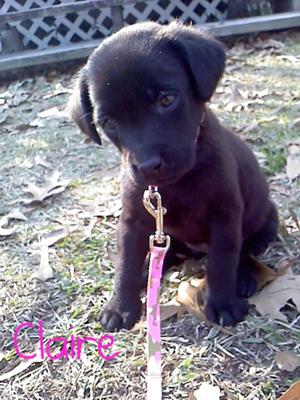 This is Acie Claire she is a 6 weeks old Chocolate Labrador.
She goes by the name Claire. She is a spunky playful girl and enjoys sleeping.
Comments for My labradors name is Acie Claire
Average Rating





Aug 03, 2012
Rating

ADORABLE LITTLE PUPPY
by: CLAIRE
if i could i would buy her shes CUTE
Lab pics of Bruno
by Veronica Buchanan
(NLR, Ar, USA)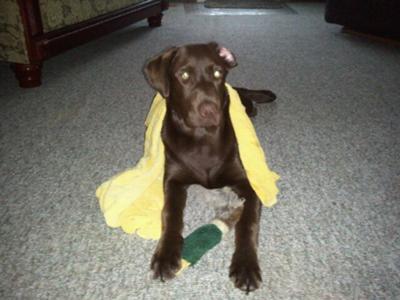 Bruno at 4.5 months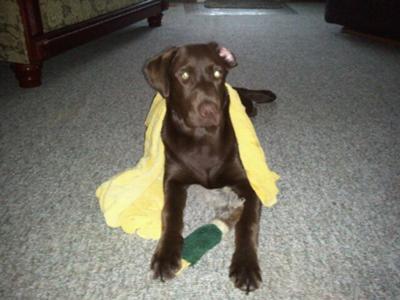 Bruno at 6 months ready for a bath
Our lab, Bruno, is 6 months right now. He is brown with hazel eyes and he is the center of attention.
He loves to be with us even if we go to the bathroom. Very attached and affectionate.
At this point he has tore up my back yard and brings everything he can find to the back porch.
The dr told us he is going to be about 100 lbs which I can see now because he is getting so big so quick.
He loves to fetch, jump, run around like crazy and he is well loved, a little too spoiled.
He has a friend which is an african grey who is going to be 3 yrs old in June and bruno wants to play with him so bad, but my african gray does not feel the same way.
We love our little guy!