Bella, B, Belly Berry, Bell.
by Daisy Crum
(Hummelstown, PA-USA)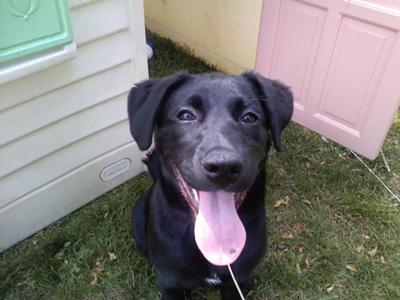 My Lab mix pup is awesome! My love for her equals how much of a pain she is, but she's my girl. She is soooo needy; constantly pressuring me for attention and will literally sit at me feet and whine until I pet her.
B is incredibly smart. I have taught her simple tricks in minutes, such as roll over, lay down, sit, speak, shake, dance and she will also carry the remote to daddy!
I love her so much but I need help breaking her of some unpleasant habits. For instance, she climbs on us and tries to get behind our heads while we're sitting on the sofa. I'm not sure if this is her trying to claim dominance or what, but I need to stop it.
She also has a bad habit of playing with her mouth open and she will push my fiancee's hands and arms with an open mouth often times catching him with her teeth.
We tell her to be nice and she'll stop but how do we permanently break her from doing this? Any one who can help would be greatly appreciated. Thanks for reading!
Daisy