My Boys
by Mike
(Buffalo, N.Y.)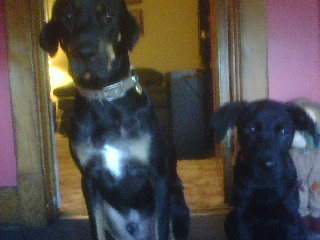 Hogan (left) & Hunter (right)
This is Hunter. He's now close to 6 months old.Purebred lab (on the right).
I got him at 4 weeks old! Yes, I know, way too young for the owners to let him go.
He's a great, fun-loving,energetic puppy. Lots of play and spunk to him too.He is in the mischievous stage right now (getting into the garbage for starters!).
Just wondering, is it normal for him to act like I never feed him? He eats his food as if it was his last meal! I do put water in his food to somewhat slow him down but still…
Anyway, I like to call him "curious George" since he's always up to something. Thank God the potty training days are over!
I also have another dog who is over 2 yrs old. He's a rottweiler/lab mix.
Hogan is an awesome dog, Very loyal and sweet.
When I brought hunter home, hogan always let him bully him. I think he knew he was a baby then.That's all changed now, LOL.
They both play constantly and when they're tired,Hunter lays right on him.
Anyways, just a little story about my boys.
Comments for My Boys
Average Rating





Jan 29, 2010
Rating

They are adorable 🙂
by: Anonymous
Hi, just wanted to write a quick post, your lab and your rottie mix are so cute!!!
My lab does eat quite a bit also lol 🙂 Maybe start putting down a bit more food, I normally put down the food for about 15mins-half hour and anything not eaten will take back up, but if all is eaten within 5mins means he is still hungry. I dunno this is how I do it. Obviously always making sure not to overfeed 🙂