Acie Claire my baby chocolate lab
by Kerstan
(Vidor Texas)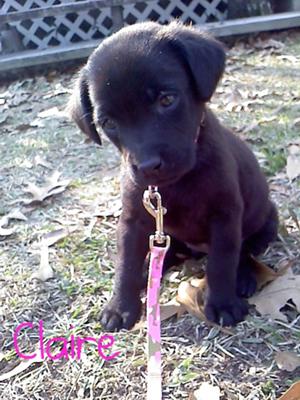 Acie Claire is 6 weeks old i just got her for Christmas this year.
She is a doll i love her! She is a spunky playful lil girl.
She is a registered Chocolate lab, and is named after her mom "Acie". But she goes by the name Claire.
Her mom is a duck hunter but i don't think we are going to raise her to hunt.
I love labs! they are a joy to have.
About 5 years ago we had a Chocolates Lab named Chance but he got lost :(.
Ever since then i have been wanting another lab and finally got one this year. I am so Happy to have Acie Claire.
Please feel free to comment if you want!
Comments for Acie Claire my baby chocolate lab
Average Rating





Jun 01, 2011
Rating

GORGEOUS
by: pamela Awww.. she us so cute! I have an 8 week old white lab. Enjoy her! She's precious!
---
Return to lab forum.