Two labs is better than one
by Annie
(Tasmania)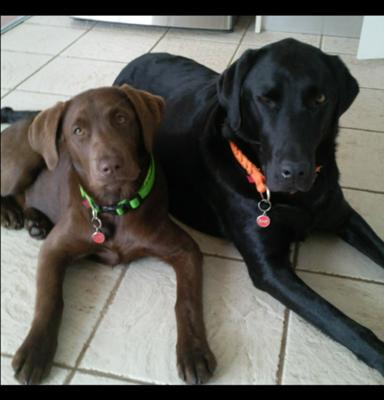 We recently added another labrador – Maisie – to our family.
We had debated having another dog for years and have not regretted it for a minute. We think we love both dogs more for having two. They get on beautifully although jealousy from the older dog – Hartley – was a issue for some months.
They are both indoor dogs when we are at home and outdoor dogs when we are not.
We love them and have never looked back. I doubt I would ever have just one dog again…
Comments for Two labs is better than one
Average Rating





Feb 24, 2013
Rating

Should I get another lab?
by: Jeremiah Hello, I have an 8 year old yellow lab named Charlie. He is a great dog and I love him. Problem is I am a single guy who travels a lot for work. Some friends are getting rid of their 4 year old chocolate lab Bella… They offered her to me for a friend for Charlie while I am traveling and working. AnyOnes input would be great. I am torn on whether having two labs would be better for my life?
---
Sep 24, 2011
Rating

another puppy
by: stephanie I too have been debating adding another lab..our dog louie's parents had more puppies and we really want one but have a 14 month old son…louie and him are best friends..but louie is a big baby so i don't know if he will like the change…hopefully it goes as well for us 🙂
---
Return to lab forum.