Labrador Pictures – Drake
by Charlie McCray
(Houston Tx.)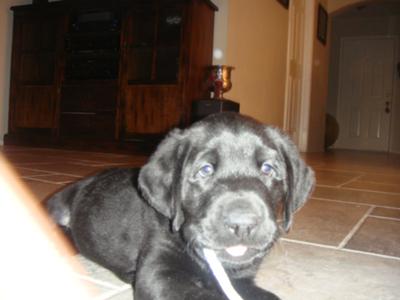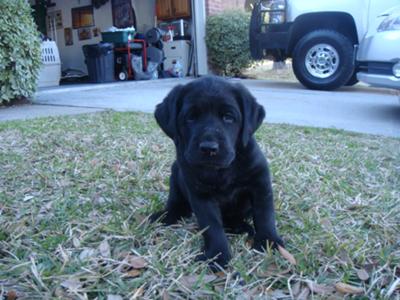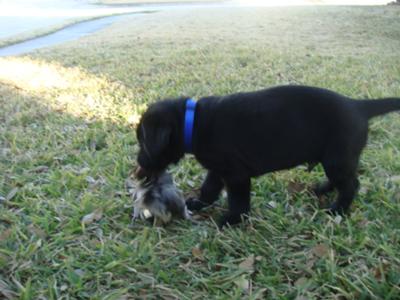 This is my new lab Drake.
These photos were taken when he was only six weeks old.
He is now 10 months old and an awesome hunter.I plan on spending many many more years in the field with him.
Editors Note:
Your new lab Drake is sooooo cute! I just had to comment. Reminds me of when our Tasha was that age 🙂
Our Labrador – Chicken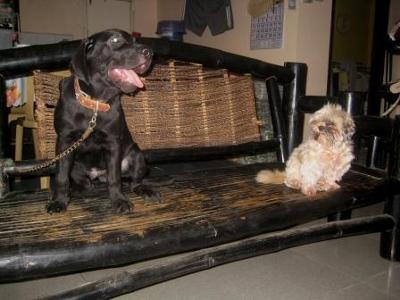 Chicken is 3 and a half month black Labrador.
We have just acquired him from a breeder last month, that was two months after my best friend shinta – a yellow Labrador passed away at the age of seven years old.
Chicken has been a pain in the neck for he is full of energy and demanding for an attention from anyone that he think he deserves to have.
I use the word "demand" because literally that's exactly what he is bogging all of us about.
Sleeping time and we put him inside our room but on leash because he will chew everything if not, after an hour or two he will bark one, twice then thrice and me and my wife so furious and bark back shut up and he will response with a thousand bark that sounded like a machine gun.
He is doing the barking while staring straight in our eyes.
For three days I have this problem only to find out that we were so busy that we forgot his exercise thus he cant sleep with all of those unspent energy.
Everyday in the afternoon we will have a long walk and a fetch exercise to wear him out and the barking stop.
We have two dogs, shitsu and Labrador and the shih tsu's name is nica and she's four years old and for three weeks I suppose I can feel that nica really hate chicken because of his energy but now they are the closest of friends.
Chicken indeed is a pain but we love him and one thing for sure, he is very intelligent.
Housebroken for only 3 days stay here in our home and fetch easily anything you ask him to.
But still he is a pain hehehe but life without him wont be normal for me.
We call her Mama for now but have potential names: Blaky, Becky or Buddy
by Steve Anderson
(Newhall, Ca)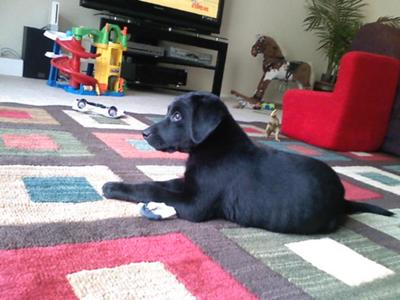 Shy but playful!
We have added a new member to our family; she is a shy but playful 8 week beauty.
She loves our 2 year old and adores our 10 yr.
Our family has not been able to agree on a dog name.
We brought her home a week ago and are so excited about her.
We will update you once we find her a name true of her personality.
Labrador Retriever Pictures of Sasha
by Caroline
(Glasgow)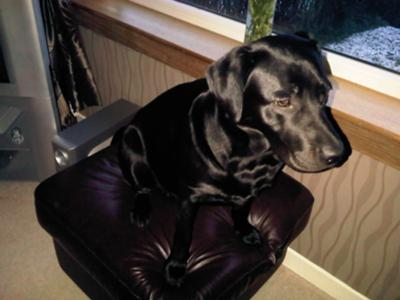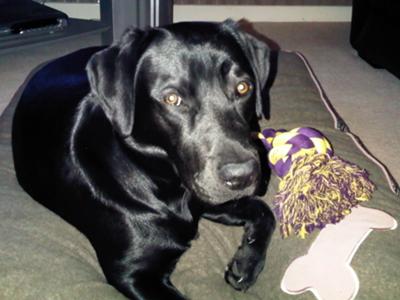 My black Lab Sasha is now 17 months old.
We did not expect to have such good fun with her as we never had a dog before.
She gives you her friendship unconditionally and is a great companion, everyone in my family loves her!
LUCIANO
by PATRICK
(PHILIPPINES)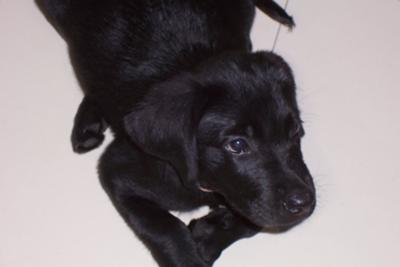 LUCIANO 3 WEEKS OLD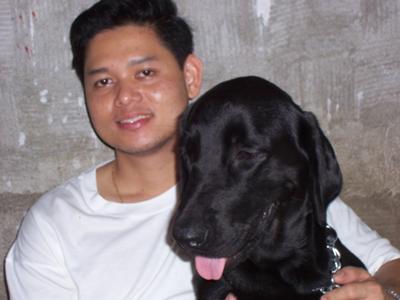 LUCIANO 1 YEAR OLD
THIS IS LUCIANO WHEN HE IS NINE MONTHS OLD. HE IS NOW THREE YEARS OLD. BIGGER AND SMARTER. I BOUGHT HIM FROM A VET CLINIC AT BORACAY ISLAND, PHILIPPINES.