Labrador Retriever pictures – Reuger, Brooke & Tuff
by Sydney
(Asotin, Wa)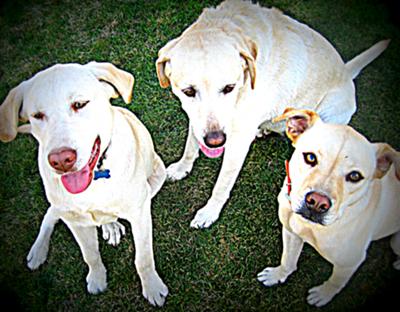 Reuger – pure breed yellow lab, 8 months old, my oldest brothers dog. Brooke – pure breed yellow lab, 5 years old, my middle brothers dog. Tuff – half pitbull half yellow lab, 2 years old, my dog. now you can't say we're not related 🙂
Labrador Retriever pictures – Sam, Sandy, Rocky
by Holly Heflin
(Richmond, VA)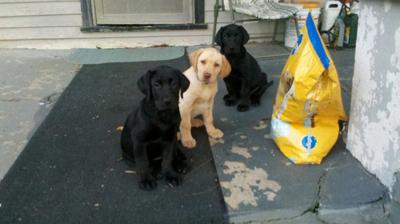 This is a picture of some great labs! 2 brothers and a sister all from the same litter enjoying a nice fall day in Culpeper, VA.
Comments for Labrador Retriever pictures – Sam, Sandy, Rocky
Average Rating





Aug 12, 2011
Rating

LUCK BLAST. .!
by: SUMIT MASKI.
I think u r the luckiest one as having dis three cuties. .my best wishes are always with them. .GOD BLESS. .
---
Kenya, Max and Zoie
by Andy Rosado
(Corozal, Belize C.A.)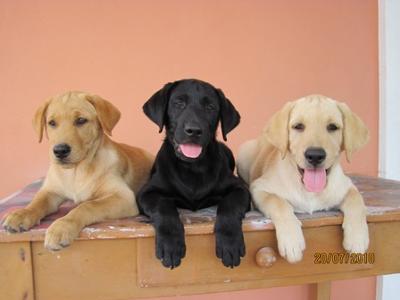 My lab pups are so eager to learn and I enjoy training them. The lightest of the two yellow labs almost died at birth but I took special care of her and look at her now.
Comments for Kenya, Max and Zoie
Average Rating





Nov 22, 2010
Rating

soooooo cute
by: Anonymous
these puppies are very cute
---
Jul 25, 2012
Rating

ADORABLE
by: Anonymous
i think the one farthest to the right is the cutest!
how did it almost die at birth?
---