How many times the dog should be fed in a day and what quantity? (According to its age)
by priya
(hyderabad)
Question:
I bought a new Labrador and I already have a German Shepherd will my German Shepherd be depressed with the new dog (Labrador).
Answer:
Hi Priya,
We have a few pages on Labrador Nutrition. Give them a read, they should answer all your questions.
You can't always predict how new dogs are going to react with each other, as upbringing has a bit to do with this.
As long as your German Shepherd is a good natured dog I don't see there being any problems. I actually think they will make a good pair.
Feeding our Labrador puppy
by Fenton
(South Wales)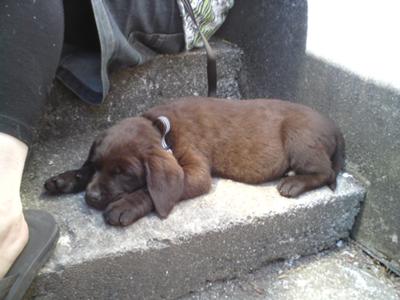 A Very tired Floyd the pup
Question
Hi there all! We have a 11 week chocolate Labrador named Floyd we have had him for 7 days and he is amazing, no separation anxiety and he is settling great and grasped the basic commands.
I am wondering if we have to feed him 3 times a day forever or if it changes down to 2 or 1 times a day if it does at what stage in his life does this change.
Labradors rule, what an amazing companion me and my wife have never had dogs before and we're loving the adventure.
Answer
Floyd is a cutie!!
After about 9-10 months of age when his growth rate has leveled off, you can start feeding your lab just once a day.
Please look through our labrador retriever nutrition pages for more information.
If you have any other questions please ask 🙂
Congrats on your new family member!
Feeding a Lab Pup/dog?
Question
I will be getting a 40 days old Puppy next week. I am confused about the quantity of food to be given at a time. Could u please tell me how much should I feed her..I know its thrice a day..I need the approximate quantity..Also i intend to gradually change her diet to homemade food..Kindly advice..Thanks
Answer
The daily amount you will need to feed your lab pup will depend on the dog food you are using. Any dog food you buy will have guidlines on the back of the packet of how much you need to be feeding your pup depending on their age.
Remember if it is a daily amount to give them 1/3 as you will be feeding him 3 times daily. Now as these will only be recommended amounts you should adapt this to your dog. If the amount you put down gets eaten in 1 min flat give them a little bit more at the next mealtime. If 10 mins have passed and your lab still hasn't finished and shows no interest in finishing it, give him a little less next time.
Soon enough you will know exactly what the right amount is for your lab.
When you decide to change your labradors diet to homemade food please read about homemade dog food to learn the guidelines on how much proteins, fats and carbs are needed in each meal.
Feeding an Old Lab
Question
Ally is a 9.5 year old female lab. I have been her owner since she was able to leave her breeder, however from 4 years ago until recently she wasn't in my care (ex-husband wouldn't let me have her) and was neglected.
I recently got her back and after taking her to the vet she is now on an arthritis medication and I am trying to get her to gain weight. She is only 66 lbs and needs to gain 10-12 lbs.
The ex was feeding her canned Alpo and I weened her on to canned and dry Nutro MAX. She was doing well with eating up until about a week ago when she refused to eat the dry food. She won't even eat treats!
I tried softening it and mixing it with the canned food and it worked until yesterday.
Again, she refused to eat it. Now I am only giving her the canned Nutro.
Any suggestions on what I can feed her that is more economic? I can't spend $200 a month on canned food!
Any suggestions are appreciated.
Answer
Hi, first of all I would just like to say how happy I am that you got Ally back, it's obvious to me that you care about her a lot!
I'm just wondering whether it would be better to take her back to the vet and explain that she has suddenly stopped eating. Maybe he needs to do a full check up to check that there is no medical reason for this.
On the feeding side have you tried feeding her homemade food?
Many people prefer doing this as you know exactly what is going in to their food and you can make sure it is healthy and nutritious for your lab.
Take a look at my homemade dog food page on the site and see if that helps.
If you have any further questions please come back and ask away!
If anyone else has any other suggestions on how to feed Ally, please share them with us 🙂
Comments for Feeding an Old Lab
Average Rating





Jan 29, 2010
Rating

Ally
by: Ally's Mom
Thank you for your comment. I did take Ally back to the vet only to learn that she has a huge tumor in her chest. It has been there for a long time and unfortunately, all I can do is make her happy. To a lab that means good food, so I am now cooking her meals. She loves my cooking and has gained weight and lots of energy! I am mastering creativity while at the same time keeping her meals healthy.
Thanks again.
---
Feb 01, 2010
Rating

I'm so sorry
by: Melanie I am very sorry to hear that Ally is ill.As you say the only thing you can do is make her as happy as possible.

It sounds like you are definately doing a good job with that cooking! It is very positive to hear that she has gained weight and has more energy.

I am very happy that Ally is so well cared for by you!
---
labrador 2.7 months old
by vishal mahajan dr
(india)
Question
I have an american lab puppy 2.7 months old…what kind of stool i expect loose semisolid or solid and for how many months?
I'm feeding him chapattis mashed with cows milk 4 times a day, approx 2-3 chapattis per day…is it ok…by what age should I start solid feeds, and by what age I should I expect solid stools.
He passes semi-solid to liquid stools 6 times a day and wakes me up in the night twice…
By what age should I expect normal 2 a day stool pattern and when and what solid food should i start him on?
Answer
Labrador puppies and all dogs should not have cow's milk. It is very high in lactose and they are not able to digest it properly. It causes diarrhoea and can cause bloating.
At almost 3 months you can be feeding your pup kibble just as long as it is puppy food. 3 times a day is good for your pups age, but after 3 months you can begin feeding him 2 times/day.
Your lab puppy's loose stool should get much better by taking him off the cow's milk.
I hope this helps, please let us know if you have any further questions.
Labrador with dog feeding aggression
by cindy
(whitehall, pa)
Question
We have a yellow lab that is 11 months old. we were told that labs are great dogs so we got her.
We have two other dog a huskie and small mix. We find ourselves with marley's evil twin sister.
Our major problem is when it comes to feeding her. She gulps down her food. A trainer told us to water down her food like a paste and put it on a tray. Didn't work she still eats way to fast.
But the biggest problem is she will bite and growl at anyone including the other dogs if you go near.
We have to lock her in her cage just to get the food out.
She starts as soon as you go near the dog food. Feeding time is hell.
I'm so afraid and nervous when it is feeding time. She becomes a totally different dog.
Is there something we can do to stop this behavor?
I'm starting to seriously think something is wrong with her and we're thinking of getting rid of her.
Please help us
Answer
Dog food agression is very common and must be taken care of immediately, if not it could get out of hand very easily.
One of the things that is said to help with this kind of aggression is simply giving your dog more exercise. A tired dog is less likely to act in this way.
Another major factor is stress levels at feeding time. A more relaxed stress free dog is less likely to act out. I would even possibly try feeding your lab away from other people and away from your other 2 dogs.
I have never experienced this behavious with my lab, however I did a bit of research and read the following tip somewhere. Basically, just before your lab realises it is feeding time leash her and and secure the other end somewhere. Prepare her food and once it is in her bowl, place it on the floor and using a long stick so that your hands are nowhere near her mouth, push the bowl towards her.
Whenever she seems like she is getting aggressive or you notice her starting to act up, withdraw her bowl using the stick and wait for her to calm down. Use kind words of encouragement and when she does settle down, move the food back so that she can carry on eating.
This will hopefully help her realise that when she is calm she will get her food. When she does calm down and is eating again, tell her she is a 'good girl' and use a lot of positive reinforcement. Never use any negatives, like shouting at her if she starts getting aggressive, positives will always work better.
Dogs behave in this way either to establish a dominance or when they are worried they will not get their food.
You need to teach your dog that you are the one that is in charge and not her.
It is very important to have regular feeding times so that she knows and is safe with the fact that food is not in short supply and she does needs to fight for it.
I hope this helps you with your problems. Please let us know how it goes.
If anyone else has experienced this with their dog, please share with us how you managed to stop this behaviour.
Comments for Labrador with dog feeding aggression
Average Rating





Apr 27, 2010
Rating

Feeding Aggression
by: Mace
I was considering adopting a dog with feeding aggression problems(wound up going with a different dog) and did some research. Is seems that hand-feeding small amounts at a time to build up your control over his feeding is a good method.
Here's a good link.
http://www.mainstreetdog.com/2008/03/15/dog-food-aggression/
---
Dec 19, 2011
Rating

Aggressive Feeding Time
by: Jane
I have a yellow male lab who is 1 1/2 and he has had a problem with eating ever since he was little. We got him at 8 weeks. Now he goes after any food he can find and literately has turned on me and my son if we try to take it from him. We really don't want to get rid of him , he is a very loving dog other than this issue. He just loves to snuggle and has to have my attention all the time. He acts like he is starving all the time and like he is never going to eat again. What can I do to change this. I don't have a lot of money for expensive training. I just want to break him of this habit. Please respond, Thanks!
---
Food Obsessed Labrador!
by Nicole
(Italy)
Question
Hi, Should you have an answer or a solution it would be much appreciated….my labrador is obsessed with food.
If she sees someone eating food, she will just stare and drool, and has developed this really bad habit of eating so quickly that she throws up straight away and then eats what she threw up – eeww!
Unfortunately my husband used to excite her when it was time to eat so she developed this habit of jumping when it was dinner time, but in the last few days we have stopped that and wait until she is (remotely) calm in order to give her her food.
But she still eats very quickly and doesnt chew.
If you have any suggestions, we would be so grateful.
Thanks, Nicole
Answer
Hi Nicole, I'm just wondering, has your lab always had these eating habits or is it a new thing?
It is very good that you have started on the right track by waiting for her to calm down before feeding her. A very excited dog is more likely to eat fast and then possibly throw up.
Some simple ways to make your lab slow down when eating is by making the food less easy to gulp down. There are some pet bowls


specifically designed to do this.
There are 2 different ones to buy from amazon, there is one which is a plastic dog bowl

, however when reading one of the reviews, even though all of them are positive as they really do work in slowing eating time down, I came across a review which complained about the material which isn't very durable. After another search I came across a metal dog bowl

which would sort this problem out.
I hope this helps!
Comments for Food Obsessed Labrador!
Average Rating





Aug 04, 2012
Rating

greedy labrador
by: susie
Our lab is just the same, he eats very fast like he has never seen food before. He has a good diet of dried food and oily fish a few times a week. He looks in good health, but will pick up anything that looks like food when we are out. I think this is a labrador thing.
susie