More basic 'need to know' information on Labrador dogs
So, you think labrador dogs are the right breed for you? It could very well be. They are fantastic dogs, they are great companions and very easy to train.
But because of its size and needs it may not suit your situation, be it where you live or how much time you can give it.
Lets have a look at what the labrador retriever is like.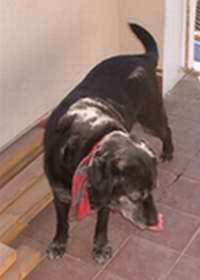 Labs are commonly found to have three colours. Yellow, Black and occasionally brown. Brown being the rarest.
They were bred to have a thick water resistant coat and this means that they also have two layers.
Labrador dogs will shed their coat every year, although this is done moderately. Shedding can be a problem if you have hair allergies and also it can involve a lot of cleaning.
When it comes to grooming, Labs should be given attention about once every week.
This will keep the coat in good condition and decrease extensive shedding.
Also bathing every so often is a very good idea, but only when the lab smells bad.
Mud and regular dirt can be rinsed with water as some of these dogs enjoy rubbing themselves against walls and furniture. A dirty lab will eventually leave a stain where it has been 'rubbing'.
Labs have an excellently balanced temperament. Or at least they should have.
With an increasing popularity over the years more breeders have been producing labs of a minor quality. This means that the breed has suffered in terms of standard. Many amateur breeders are not trying to provide quality but rather quantity.
If you are going to buy one of these wonderful dogs make sure you find one with a good temperament, after all it is what made them popular in the first place!
---