How much should a four year old male yellow lab normally weigh?
by kaity
(new york)
Question
Well, my sister says that my 4 year old yellow lab is starting to get chubby. I don't know exactly how much he is supposed to weigh so i need your help to get tips to get him more active and slim.
Answer
An average for a male adult labrador retriever would be about 70lbs, however there are some that can grow to a larger weight.
Labs are very big dogs.
As long as you are feeding your labrador correctly and giving him the exercise he needs he is probably the right weight.
However if you are concerned at all take him to a vet and make sure that he is the right size.
If he is just a little chubby I would not worry, just give him a little bit more exercise and play with him.
He will love the extra play if he is anything like our Tasha 🙂
overweight lab??
by Jessica
(Australia)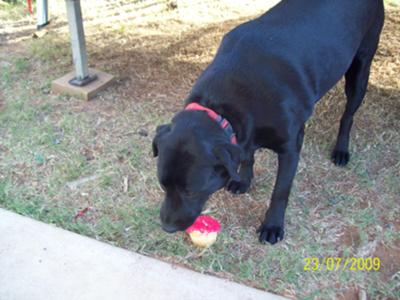 Question
Hi there, my Labrador Lady is 18 months old and she weighs 30kgs.
I was wondering if this is too much for a lab?
She has been on heat twice and never bled, this is a concern for me too. But on her next heat I want to breed her but I have heard it is dangerous for an overweight dog.
So my question is, what's the ideal weight for a Labrador?
Answer
The average weight for a female labrador retriever is between 25-32kg.
Your lab is within the average weight for females and looking at the photo you have provided she does not look overweight.
However, with regards to the lack of bleeding and the breeding questions I would take her to a vet and get a full health check up just be sure all is ok and that she is at an ideal weight to be able to breed safely.
labradors weight???
by nancy
(houston, tx)
Question
I recently got a 9 week old female Labrador, and in the trailers I happened to live in they only admit dogs under 25 pounds and under….which leads to my question, how big will my Labrador get?
Answer
Labrdor retrievers do get to a weight which is over 25lbs. An adult female lab can weigh anywhere between an average of 55-70lbs.